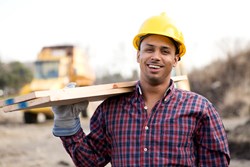 Burbank, CA (PRWEB) January 29, 2014
Exterior carpenters can now purchase top-notch liability insurance via a new program offered by USA Business Insurance. This liability insurance is a must for all exterior carpenters. The comprehensive liability protection includes coverage for products and completed operations, medical payments, bodily injury and property damage.
"This superior general liability insurance is specifically tailored to those who perform exterior carpentry work on residential and commercial structures," said a spokesperson at the Burbank, California based USA Business Insurance. "It will be there when it's needed for the working carpenter."
One of the features of this liability program is that it covers anybody who works for the company in any capacity. This includes the proprietor, an employee or a salesperson. For example, if a covered carpenter damages the property of another, the property damage portion of the liability policy will cover that plus any costs associated with the loss of use of the property.
If some work is found to have been done improperly or if sub-par workmanship is discovered after the job is finished, the products and completed operations portion of the policy will pay for any resulting damages.
About USA Business Insurance
This general liability insurance program is customized to the exposures faced by exterior carpenters. In addition, USA Business Insurance offers similar liability policies designed for many other types of trades and businesses.
For more information click here.