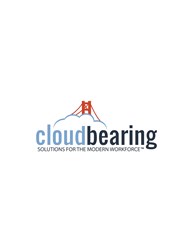 Raleigh, NC (PRWEB) January 30, 2014
CloudBearing, a national cloud integrator focused on helping clients move their applications and infrastructure to the cloud, launched a new web site today at http://www.cloudbearing.com.
The new web site showcases CloudBearing's brand, "Solutions for the Modern Workforce™," and provides a customer-centric interface by which prospective buyers can instantly obtain pricing and calculate the return on investment of adopting cloud applications and infrastructure.
CloudBearing Chief Marketing Officer Emily Claire Smith explained, "Our new web site helps customers understand the cost-savings and productivity gains of moving to the cloud. Also, we are showcasing new services we have added to our portfolio for 2014 due to customer demand." 
CloudBearing partners with local businesses in the Triangle and selected Durham, NC based web firm Cuberis, http://www.cuberis.com to develop their web site.  Cuberis Principal Ray Parrish said, "We enjoy the opportunity to work with fast-growing technology companies like CloudBearing." 
According to CloudBearing's CEO Nicholas Vossburg, "Cloud is the way of the future for modern computing. We have introduced new services for hundreds of thousands of end users who have moved to the cloud with CloudBearing." 
CloudBearing has helped hundreds of organizations move their applications and infrastructure to the Microsoft Cloud to lower cost and risk and to increase security and productivity.  The firm focuses on the customer experience, offering Office 365 migration services, private cloud consulting services, support and training, and change management consulting to ensure successful adoption. CloudBearing's Solutions for the Modern Workforce™ brand has evolved from the practices of Fortune 100 enterprise software firms and leading global consultancies.