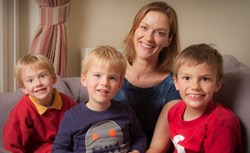 The sooner you get a diagnosis, the sooner you can help your child be the best they can be.
(PRWEB UK) 31 January 2014
The world-leading 'Babylab' at Birkbeck, University of London has launched a new Europe-wide study of the early emergence of autism and ADHD. The £2.5m Studying Autism and ADHD Risk in Siblings (STAARS) project will map brain development from birth to identify the earliest signs of these lifelong social communication and attention disorders. The STAARS project is the first study of this size and scope to examine risk of autism and ADHD from birth, and will involve over 400 families from across Europe and the UK. The research will focus on infants who have older siblings with autism or ADHD as these infants are at particularly high risk for these disorders.
Parent Charlotte Warner, whose oldest son, Alex, was diagnosed with autism at age four and with ADHD at age six, said: "Having had a diagnosis for Alex before the age of four would have made a huge difference to him, to his siblings and to the family.
"The earlier you know your child has a life-long condition that can be significantly improved with the right intervention, the sooner you can start researching what those interventions are, where the evidence base is for interventions that actually work in ameliorating the signs and symptoms of autism. The sooner you get a diagnosis, the sooner you can help your child be the best they can be."
Birkbeck's research team are looking for infants aged three-ten months old with an older sibling with a formal diagnosis of autism or ADHD whose parents are happy for them to participate in the study.
Autism and ADHD affect around 4% of the population in the UK. Although parents may notice symptoms of these conditions from infancy, children are often not diagnosed until they are in nursery or school. Earlier diagnosis of these children would help make it possible to design earlier and more effective interventions that may prevent symptoms from developing, and improve the quality of life for individuals with autism/ADHD and their families.
Professor Mark Johnson, whose team is leading the study, said: "We are very excited to be embarking on what is one of the most innovative collaborative research projects into early markers of autism and ADHD to have been carried out to date. Combining the data and expertise at the Babylab in London with that of our partners across Europe and North America will enable us to drive discoveries that will make a real impact on the lives of people with autism or ADHD and their families."