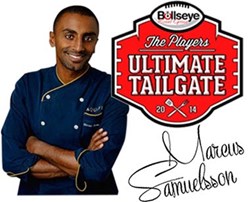 Indianapolis, IN (PRWEB) January 29, 2014
Bullseye Event Group, one of the nation's leading event and group ticket companies, released today the list of active NFL players attending the 2014 Super Bowl Players Ultimate Tailgate Party.
The event takes place on Sunday, February 2 from 11am to 4pm at Gotham Hall on the NLF's Super Bowl Boulevard. Celebrities and guests are treated to live entertainment, a five-star gourmet menu prepared by international super chef Marcus Samuelsson and catered by his signature restaurant, Red Rooster Harlem, and open premium bar. A full line-up of entertainment includes Cirque USA, performances by Vy Higginson's Gospel for Teens Choir and a special Super Bowl Chalk Talk.
As MC for the event, ESPN Anchor Lindsay Czarniak will introduce all of the players in attendance, giving them the "Pick 6" treatment she makes so popular on SportsCenter: She picks the player's brain on three football-related topics and the player reveals three things people don't know about them.
Active NFL players scheduled to attend the 2014 Super Bowl Players Ultimate Tailgate Party are:
Marvin Jones Jr., Cincinnati Bengals Wide Receiver
Vonta Leech, Baltimore Ravens Fullback
Eric Berry, Kansas City Chiefs Safety and 2014 Pro Bowl Selection/Team Sanders
Brandon Boykin, Philadelphia Eagles Cornerback
Joique Bell, Detroit Lions Running Back
Patrick Chung, Philadelphia Eagles Safety
Quinton Coples, New York Jets Linebacker
Antonio Cromartie, NY Jets Cornerback and 2014 Pro Bowl Selection/ Team Rice
Damon Harrison, New York Jets Defensive Tackle
Israel Idonije, Detroit Lions Defensive Tackle
Cam Jordan, New Orleans Defensive End and 2014 Pro Bowl Selection/Team Rice
Plaxico Burress, Pittsburgh Steelers Wide Receiver; Super Bowl Champion
Mychal Kendricks, Philadelphia Eagles Linebacker
Brian Orakpo, Washington Redskins Linebacker and 2014 Pro Bowl Selection/Team Sanders
Justin Pugh, New York Giants Offensive Tackle
Kevin Reddick, New Orleans Saints Linebacker
Antrel Rolle, New York Giants Safety and 2014 Pro Bowl Selection/Team Rice
Terrell Thomas, New York Giants Corner Back
Discount tickets are still available for this VIP experience for only $450 per person. Includes game day transportation.
Contact Bullseye Event Group directly for more information.
About Bullseye Event Group
As a secure, official source for travel, hotel, pregame parties and tickets, Bullseye Event Group is a direct and dependable source for Super Bowl packages, delivering unforgettable experiences to fans.