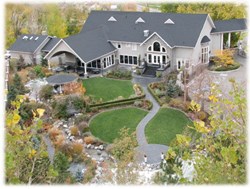 "I love this reception center they had everything I needed it made planning my wedding easy they did everything. I loved that they had an indoor and outdoor place. All the employees were so nice and helpful they helped make all my ideas come true." -Meera
Draper, Utah (PRWEB) January 30, 2014
Millennial Falls reception center has been named Draper, Utah's number one reception center by Salt Lake Wedding Reviews. Millennial Falls past brides and visitors have given them an overall 5 star rating.
Millennial Falls is located in the foothills of Draper Utah's breathtaking mountains. Over the past several years Millennial Falls has built a strong reputation among local Utah brides. Aside from their gorgeous wedding venue, they are also known for their 40 foot waterfall and their exceptional service.
This Draper, Utah wedding reception venue is over 12,000 square feet and was built specifically for wedding receptions. Millennial Falls is an indoor/outdoor venue with a perfectly landscaped garden.
Ryan Swayt of SaltLakeWeddingReviews.com is pleased to announce the number one wedding location for Draper, Utah. "Millennial Falls is Draper Utah's number one wedding location for this year. There are dozens of nice places for weddings here in Draper; but our brides have made it clear that Millennial Falls is a step ahead of other reception centers. It's amazing what they do for brides. The bride works closely with a designated wedding planner and Millennial Falls makes the brides dreams become a reality. Their staff works tirelessly to please both wedding brides and their guests."
Salt Lake Wedding Reviews gives 5 star awards to local wedding vendors who have received an average rating of 4.5 stars or higher. These ratings are left by real wedding brides and wedding guests. Millennial Falls has an overall 5 star average; they have the highest rating of any wedding location in Draper.
Millennial Falls is a full service reception center. They provide everything that the bride needs. They work closely with other wedding professionals to make certain that their brides are happy with every aspect of the wedding. Millennial Falls provides a wedding planner, cake, photography, catering, linens, decorations, and more.
Draper Utah's Millennial Falls is a family owned business. Staff and family have made a strong impression on wedding brides. Their goal is to take the stress from the bride and handle all wedding matters for their customers.
Millennial Falls also offers on and off site catering for weddings and corporate events. Their catering service has also been rated a 5 star service from their past customers. To learn more about Millennial Falls, please use the information from the contact box.