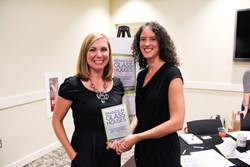 "Business owners no longer have to fear being honest about who they are. Showing people the truth behind how you are different can launch your brand."
Pensacola, FL (PRWEB) January 31, 2014
Today, successful companies do not talk "at" the customer; they talk "with" them, honestly and humanly. This expectation of honest communication and brand transparency has started a revolution. For the first time in history, the truth sells. A new book Brands in Glass Houses: How to Embrace Transparency and Grow Your Business Through Content Marketing, written by Dechay Watts and Debbie Williams, co-founders of content marketing agency SPROUT Content, showcases the trend of brands connecting with people by being transparent and giving away knowledge to build trust.
Filled with dozens of case stories, Brands in Glass Houses is both an intellectual exercise and a practical guide to how to uncover a real brand story and authentically share it with the world. The authors take readers through the complete marketing lifecycle, from uncovering your brand story to being consistent through an editorial calendar. They shine light on easy ways to educate and engage a target audience through content marketing tactics such as blogs, social media, newsletters and more.
"Somehow, in just over 100 pages, the authors have managed to not only paint a vision of effective content marketing through transparency, but they've also loaded the work with multiple real-life examples that are absolutely relatable to any business – big or small, B2B or B2C," said Marcus Sheridan, President of The Sales Lion and co-founder of River Pools and Spas. "I sincerely believe that if you embrace the teachings, and then follow the plan that has been so neatly outlined, your business will change forever."
The authors were inspired to educate readers on the value of using quality content to connect with their brand on an emotional level. "Emotional connections make people more eager to listen to what you have to say, talk about you, share their experiences with you, and ultimately, buy from you," says Williams, co-author and Chief Content Officer of SPROUT Content.
"Business owners no longer have to fear being honest about who they are," says Watts, co-author and Chief Strategy Officer of SPROUT Content. "In fact, educating your audience and showing people the truth behind how you are different can launch your brand forward and move you ahead of your competition."
Brands in Glass Houses was published by The Content Marketing Institute, an Inc. 500 company and leading global content marketing education and training organization.
What Others Are Saying about Brands in Glass Houses:
"This is a breakthrough book that captures the keys to success for competing in the age of transparency." - Jeff Rosenblum, Writer and Director of The Naked Brand Documentary and Founding Partner of Questus
"It's practical and applicable information that can make an impact starting now." - Amanda Maksymiw, Content Marketing Speaker, Educator and Blogger and Content Marketing Manager at Lattice Engines
"Packed with accessible examples, simple ideas, and smart marketing advice, this book gets behind the buzz surrounding authenticity, transparency and storytelling in a way that few marketing books can." - Andrew M. Davis, Author of Brandscaping
About SPROUT Content
SPROUT Content is a leading content marketing agency with locations in Pensacola, FL and Denver, CO. The company is a certified HubSpot inbound marketing agency partner and winner of the 2013 HubSpot Partner award for annual website traffic growth.
###