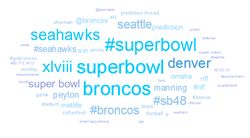 It is interesting to watch how each teams fan base continues to get more vocal across social media channels as the game approaches.
Denver, CO (PRWEB) January 29, 2014
Zunesis, a CRN Elite 250 IT Solutions company based in Denver, Colorado, has released a report suggesting that Seattle Seahawks fans have a greater online presence than Denver Broncos supporters do. The report examines social media data gathered by Zunesis' Social Business division, which provides social media analytics and reporting services. Their team examined a significant representative sample of social media discussions surrounding Super Bowl 48 and was able to determine that Seahawk fans are more vocal, express positive sentiment about their team more often, and use team-specific hashtags on a more regular basis.
Other findings of the study included term frequency analysis for each team. Discussions in the online sphere of the Broncos tend to be centered on the topic of "Peyton" or "#Peytonmanning," whereas the differentiating terms for Seattle focused on "#12thman" and the "rally" last week in Seattle, in which 30,000 Seahawks fans gathered in support of the team. The term "#gohawks" was also ranked significantly higher in the strength index than its opposing term, "#gobroncos."
"Being a Denver-based company, we thought it would be interesting to assess the various social media buzz that's occurring for the upcoming Super Bowl between the Denver Broncos and the Seattle Seahawks using our recently launched Social Insights offering," said Dr. Evan D. Escobedo, Practice Principal for Zunesis. "Our platform is able to track sentiment, share of voice, and key influencers across the social web and although we just used a sample dataset for this report what I found most interesting is that the Seahawks fan base appears to be hungrier for a Super Bowl victory."
Download the full report here.
For more information on Zunesis and its Social Insights services, visit http://www.Zunesis.com.