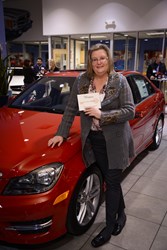 We expect our friends in the real estate community will be spending plenty of time at Skyestone in 2014, so we thought it was the perfect venue to award this year's "Keys to Success" winner.
Broomfield, Colorado (PRWEB) January 30, 2014
Denver real estate agents will get a special VIP look at the community that could make them eligible to win a new Mercedes Benz next year while also watching as last year's contestants vie for their own Mercedes Benz on February 13.
Taylor Morrison's year-long "Keys to Success" giveaway will be held at the Denver homebuilder's new centerpiece community, Skyestone, located at 12091 Red Fox Way in Broomfield, near the intersection of 108th Street and Simms. The event will begin at 5 p.m.
As the real estate agents vie to win the use of a 2014 Mercedes Benz, they will also see the official unveiling of the homebuilder's long-awaited 55+ community, Skyestone, which opens to the public on February 15.
"We expect our friends in the real estate community will be spending plenty of time at Skyestone in 2014, so we thought it was the perfect venue to award this year's "Keys to Success" winner," said Brian Cartwright, vice president of sales and marketing for Taylor Morrison's Denver division.
Last year, Denver real estate agent Merry Whyman took home the keys to a bright red Mercedes Benz after she carefully selected a random envelope from a drum of nondescript envelopes, opening it to discover she was the winner.
All day, Whyman had felt the night would hold something special for her.
"I told my clients…I was going to win a car," she said. "I told everyone I was going to win."
Cartwright said the event is always one of fun and excitement, with the level of excitement heightened this year by the opening of Skyestone, which will feature two collections of new floor plans from Taylor Morrison, miles of walking and hiking trails, a community garden and hundreds of acres of open space surrounding the community.
"Our buyers have told us this is what they want in a 55+ community," he said. "And judging by the initial response, we felt giving Denver real estate agents a sneak peek was very important."
Set in the shadow of the flatirons, Skyestone inspires a new way of living for those looking to elevate their way of life. Two collections of homes will be available at the community, the Landmark and Pinnacle collections, with models to be unveiled in February. Each collection will offer four floor plans with option of finished or unfinished basement.
The community will feature plenty of future amenities, according to Cartwright, including the future amenity, The Lodge at Skyestone.
Tentatively scheduled to open in 2015, The Lodge at Skyestone will serve as the community's main gathering place, a beautiful space where residents can meet family or friends for a bite to eat, yoga on the event lawn or a swim in the beautiful pool and spa. Whatever they choose, The Lodge's interior spaces are assigned to six distinct experiential spaces - Savor, Taste, Indulge, Play, Rejuvenate and Refresh.
To RSVP for the "Keys to Success" event, please contact Becky Hunt at (303) 656-7692 or by email at bhunt(at)taylormorrison(dot)com by February 7.
For more information on Skyestone, please visit http://www.skyestonedenver.com.
About Taylor Morrison
Headquartered in Scottsdale, Arizona, Taylor Morrison Home Corporation operates in the U.S. under the Taylor Morrison and Darling Homes brands and in Canada under the Monarch brand. Taylor Morrison is a builder and developer of single-family detached and attached homes serving a wide array of customers including first-time, move-up, luxury and active adult customers. Taylor Morrison divisions operate in Arizona, California, Colorado, Florida and Texas. Darling Homes serves move-up and luxury homebuyers in Texas. Monarch, Canada's oldest homebuilder builds homes for first-time and move-up buyers in Toronto and Ottawa as well as high rise condominiums in Toronto. For more information about Taylor Morrison, Darling Homes or Monarch, please visit http://www.taylormorrison.com, http://www.darlinghomes.com and http://www.monarchgroup.net.