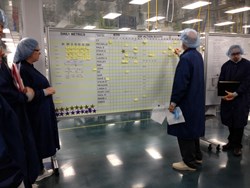 Mukilteo, WA (PRWEB) January 30, 2014
Gemba Academy, a leading provider of online lean and six sigma training, is offering a webinar titled "Using an Action Board to Drive Daily Team Accountability" with Steve Kane of Specialty Silicone Fabricators.
The Action Board is the center of a daily stand-up meeting and is used to drive action and accountability. It is a calendar based system that includes a review of daily metrics, problem statements and tasks due. The board fosters collaboration, ownership and team work while helping reduce task completion times. It also illustrates the workload of each member of the team, which drives allocation of resources and assists with setting priorities. The system is simple and works with or without a specified leader.
In this webinar, Steve Kane, VP Operations at Specialty Silicone Fabricators, will show how to use the Action Board to help your team get more done in less time while creating an atmosphere of cooperation.
For more information and to register: http://www.gembaacademy.com/webinars/kane-action-board.html.
About Steve Kane:
Steve Kane is Vice President of Operations for Specialty Silicone Fabricators, Inc., a contract manufacturer of medical silicone, bioresorbable materials, and medical device-drug combination components based in Paso Robles, California. He is also on the board of directors for the Association of Manufacturing Excellence Western Region. Steve is a Lean leader who emphasizes a customer focused culture. His professional experience includes Lean supply chain management, sales, satellite plant operations management, value stream management and multiple site operations.
Steve received a B.A. in philosophy from the University of California, Santa Cruz, a project management certificate from the University of Minnesota Extension, and a Lean Champion certificate from Northwestern Michigan College. He has served in the United States Army Reserve and volunteered as a police officer and deputy sheriff in Orange County, California. He is married to Ania and lives in Paso Robles, California.
About Gemba Academy:
Gemba Academy, a leading provider of video-based Lean manufacturing and Six Sigma training, has delivered online training to more than 2,000 companies around the globe including Lear, the U.S. Air Force, and Mass Mutual. Designed by and for real practitioners, Gemba Academy has revolutionized online training with their unique "site based subscription" model and never charges a per-use or per-person fee. With over 120 hours of training and more than 500 videos, Gemba Academy provides flexible solutions and access to a wide selection of videos that can serve as a baseline for training or enhance existing continuous improvement efforts.