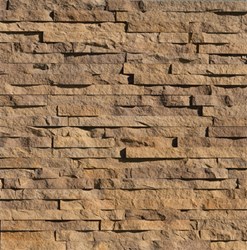 San Diego (PRWEB) January 30, 2014
The historical timeline of architectural stone begins with the first structures made by man and evolves to the modern structures found in cities around the world today. Stone's inherent characteristics of texture and warmth can help define and reshape trends in design. Eldorado Stone®, creator of the world's most believable architectural stone veneer and committed to keeping a finger on the pulse of the next in-demand color schemes, has once again added contemporary and striking hues to its most popular stone profiles.
Driving the trend of using nature as inspiration for the "hottest new color," Eldorado Stone is introducing four new colors Madrona, Iron Mill, Oakmont and Barley to its extensive palette of handcrafted stone profiles.
Eldorado Stone's new colors include:

Madrona: A striking combination of natural and burgundy shades, this color is available in the Cut Coarse profile, a modern design resembling saw-cut Turkish limestone.
Iron Mill & Oakmont: Rich tones of burgundies and grays comprise Iron Mill, while Oakmont features warm earth tones. Both colors are available in the acclaimed European Ledge profile, a fusion between old-world stonework and modern design.
Barley: Warm, natural tones with white-highlights signify new vibrancy for the popular Cliffstone profile, perfect for transitional and contemporary designs.
"With these four new hues, we round out our color palette with tones that are both current and timeless," says Eldorado Stone Vice President of Marketing Brent Spann. "We're pleased to add these new options, and look forward to seeing how architects, designers and homeowners will transform spaces and incorporate them into their design projects."
ABOUT ELDORADO STONE:
Eldorado Stone, LLC is headquartered in the San Diego area. It is a subsidiary of Headwaters Incorporated (NYSE: HW), a world leader in creating value through innovative advancements in the utilization of natural resources. Eldorado Stone currently operates manufacturing facilities in several states with regional distribution centers across the U.S. For more information and to view a gallery of beautiful installations, visit http://www.eldoradostone.com or call 1 800-925-1491 for a free catalog.