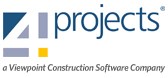 We're delighted that 4Projects have chosen Newcastle for the location of its European headquarters. The city's ambition for growth can only be achieved through the attraction of bringing and creating highly skilled knowledge and innovation led jobs
Newcastle Upon Tyne, U.K. (PRWEB) January 30, 2014
4Projects, a Viewpoint Construction Software Company, today announced they will be moving their UK-based headquarters this week to the Central Square building in the North East region's emerging technology hub, Newcastle Upon Tyne. 4Projects continues its strong leadership position and business performance in the project and BIM collaboration space, leading to significant company growth necessitating a move to the new office space to accommodate expansion plans of more than 50 percent in 2014.
This move is funded in part by a grant from Let's Grow, a regional growth fund programme running from February 2013 to December 2014 which will supplement the £3 million investment by 4Projects. Let's Grow is the result of a collaboration between Trinity Mirror Group, BE Group and UNW LLP and provides grant support for capital investment, and research and design projects creating or safeguarding jobs in the North East of England.
Andrew Frost, Project Advisor at the BE Group said, "We're pleased to be able to support 4Projects with their expansion plans. The grant award of £235,000 will help the Company to significantly increase its workforce creating 30 new jobs and is another good example of a growing business being supported by the £30 million regional Lets Grow program."
"The increased demand for effective project and BIM collaboration tools from a variety of construction stakeholders across the globe has required us to expand our U.K.-based team. We will be creating up to 30 new jobs across all aspects of the development and implementation cycle including developers, technical support, quality assurance and sales professionals," stated Steve Spark, Managing Director, 4Projects. "The support that the Let's Grow programme has presented creates an environment in which 4Projects can capitalize on the growing market for construction collaboration tools and the unique opportunity to be at the ground level of Newcastle's emergence as a recognised centre for innovation and technology in the region.
The move was helped by the inward investment team at Newcastle Gateshead Initiative who work to attract and retain business investment in the area. Through a bespoke package of business support services, the team provided assistance with the Let's Grow bid and access to research intelligence, property and training solutions.
Catherine Walker, director of inward investment at Newcastle Gateshead Initiative said, "We're delighted that 4Projects have chosen Newcastle for the location of its European headquarters. The city's ambition for growth can only be achieved through the attraction of high performing companies such as 4Projects bringing and creating highly skilled knowledge and innovation led jobs.
"They will join an extensive cluster of software development companies, world-class universities and collaborative networks that push the boundaries of technology, providing innovative tech solutions for global companies around the world. This reinforces our growing reputation across the UK and beyond as one on the most vibrant and talented tech communities outside of London. And with the development of a headquarters function, they will be a strategically important employer and we look forward to working with them to ensure they experience a seamless integration as well as having access to the support needed for sustainable growth."
About 4Projects, a Viewpoint Construction Software Company
Named 2013 Collaboration Software of the Year and Product of the Year by Construction Computing Magazine, 4Projects' cloud-based products offers diverse project stakeholders and construction teams the ability to access, manage, distribute, mark-up and audit drawings, submittals, RFI's, issues and other construction and pre-construction documents. In 2013 4Projects averaged 4500 users per month and over 300,000 global users and of the top 30 UK contractors, more than 50 percent of them use 4Projects exclusively when they have the choice of collaboration tools. Parent company, Viewpoint Construction Software, providing construction specific software that integrates, has a long-standing focus on meeting the collaborative and information needs of the construction industry. Viewpoint customers include more than 30 percent of the 400 largest U.S. general contractors and has the most technology partnerships with the top 50 mechanical and electrical contractors in the U.S. Viewpoint serves as the technology partner of choice to the construction industry and delivers the right solutions on the right platform, including cloud, SaaS and on premise solutions and provides customers improved accountability, efficiency and productivity throughout the U.S., Canada, the United Kingdom, Europe, the Middle East and Australia. For more information, visit http://www.4projects.com and http://www.viewpointcs.com.
© 2014 Viewpoint, Inc. dba Viewpoint Construction Software. All Rights Reserved. Viewpoint®, Viewpoint Construction Software®, Viewpoint V6 Software®, Construction Imaging®, Mobile Field Manager™, 4Projects®, and Viewpoint For Project Collaboration™ are trademarks or registered trademarks of Viewpoint, Inc., in the United States and/or other countries. Other names and brands may be claimed as the property of others.