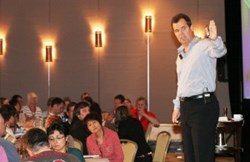 The Australia real estate market is experiencing a property boom right now, and everybody wants to get their foot in the the door. Unfortunately, not everyone who invests in real estate will immediately make money from the properties they purchase
(PRWEB) February 01, 2014
A Credit Rating Agency, Fitch, labelled the price of real estate Australia as the fastest growth among other major economies around the globe, (the Sydney Morning Herald reported on 22 January 2014).
Fitch added that low interest rates and high income meant that house prices in the country are still relatively affordable despite its rapid increase.
"The Australia real estate market is experiencing a property boom right now, and everybody wants to get their foot in the the door. Unfortunately, not everyone who invests in real estate will immediately make money from the properties they purchase," according to Rick Otton, host of the upcoming real estate Ready, Set, Boom National Tour.
"Even with highly favourable conditions in the market today, poorly-trained property investors and home buyers are either going broke to pay off negatively geared properties, struggling to sell their properties in this cash-less economy, or abandoning their dreams of home ownership because the banks have tightened lending to first home buyers," he exposed.
Mr. Otton then shared in a recent interview for Ready, Set, Boom that these problems brought about by the traditional process of buying and selling houses could be easily solved with creative strategies.
"Creatively buying and selling investment property simply means not having to pay for a large deposit or even applying for new home loans with the bank. Rather than force buyers to pay a huge amount of cash all at once, they can come to an agreement on flexible payment terms with the seller," he explained.
"This creative way of investing in NSW real estate has helped thousands of people make positive cash flow from day 1 with any property and expand property portfolios without paying large amount of cash. Aside from that, property investors and home buyers don't need to undergo credit checks or extensive renovations to achieve these financial benefits," Mr. Otton added.
Visit http://readysetboom.com.au/ to secure a free seat to Rick Otton's stop at Newcastle on 13 February 2014. Limited seats are available, so sign up now.
About Rick Otton
For over 23 years property millionaire Rick Otton has built an impressive real estate portfolio using innovative strategies that he has developed – strategies in which transactions are made without the need for traditional bank-type loans.
He constantly refines his techniques as he buys and sells properties through his We Buy Houses business which operates in Australia, New Zealand and the UK.
A gifted speaker and educator, Mr Otton conducts regular one-day free seminars across Australia, which build on the the concepts he shares in his 2012 book 'How To Buy A House For A Dollar', voted by Money Magazine and Dymocks Book stores as one of the Top 10 Most Popular Finance Titles for 2013.
He regularly records and publishes iTunes podcasts via his channel Creative Real Estate.
His innovative low-risk, high-reward approach to Australian real estate investing has been featured in a variety of television programs and magazines, including Today Tonight, Hot Property and Australian Property Investor.
To register for one of Mr Otton's free Australian one day seminars visit ReadySetBoom.com.au or phone, in Australia, 1300 888 450.