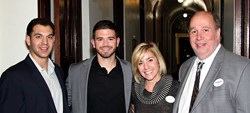 We are extremely proud of our long family history of growth and unwavering employee support through economic ups and downs. - George Williams, A.G. Williams co-president and CEO
Westchester County, NY (PRWEB) January 31, 2014
A.G. Williams Painting Company, a third-generation, family-owned and -operated residential and commercial painting firm servicing the tri-state area since 1906, was named by the Westchester County Business Journal (WCBJ) as a finalist for its first annual Family-Owned Business Award. Finalists and winners were recently recognized at a celebration at Mapleton at Good Counsel in White Plains.
"We are extremely proud of our long family history of growth and unwavering employee support through economic ups and downs," says George Williams, A.G. Williams co-president and CEO. "Being recognized as a leading family-owned business in Westchester County is a great honor."
Although times were tough during the Great Depression, founder Arthur Ratsikas ensured that all his employees were kept working as he knew they had families to support. Another slowdown in growth motivated Arthur's eldest son, George, to relocate the company to Pelham in the early 1960s to take advantage of growth opportunities. Today, under the direction of George's two sons, Arthur and George, is experiencing a period of steady growth and continues to uphold its policy of caring for its employees. A.G. Williams maintains offices in Westchester and Greenwich and employs over 40 full-time painters, five estimators and an office staff of two with offices in both Westchester County and Greenwich. It is recognized in the industry as one of the most highly respected and successful painting companies in the country.
The WCBJ event was attended by business finalists and their extended families. Red Oak Transportation in Port Chester was named winner among companies in business for more than 50 years. Murphy Brothers Contracting Inc. in Mamaroneck won the 26- to 50-year award, and Adcorp Media Group in Irvington and Strategy Leaders Inc. in Chappaqua tied for the 5- to 25-year award.
A.G. Williams Painting Company is located at 411 Pelham Avenue, Pelham, NY, 800-227-1906, with offices at 500 West Putnam Ave, Suite 400, Greenwich, CT 06830, Ph: 203-618-0058 http://www.agwilliamspainting.com/.
About A.G. Williams Painting Company
A.G. Williams Painting Company, Inc. a family-owned and -operated residential and commercial painting firm, has serviced the tri-state area for over 100 years, since 1906. Founded by Arthur George Williams, A.G. Williams is in its third generation of Williams family ownership and fourth generation of employees under the leadership of grandsons George P. Williams and Arthur G. Williams, and great-grandson George Williams Jr. serving as Marketing Assistant, with office locations in Pelham, New York, and Old Greenwich, Connecticut. The company is a recognized leader in the residential and commercial painting industry through its state-of-the-art precision interior and exterior painting, powerwashing, wall coverings, faux finishes, expert design services and high quality carpentry. A.G. Williams proudly maintains an unparalleled tradition of honesty, integrity, and professionalism.