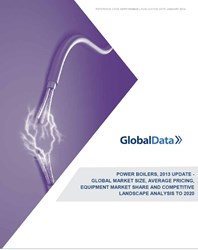 Rockville, MD (PRWEB) February 05, 2014
Power Boilers, 2013 Update - Global Market Size, Average Pricing, Equipment Market Share and Competitive Landscape Analysis to 2020
The global power boiler market is expected to grow in the future, with its market value expected to reach around $30 billion by 2020. This growth is expected due to the many coal-fired plants scheduled to begin production in the forecast period and a global increase in electricity demand. With the power boiler markets in North America and European regions maturing, manufacturers are increasingly looking to Asia-Pacific and the Middle East and Africa to expand their business activities.
In the Asia-Pacific region, countries such as China, India and Indonesia provide good opportunities for boiler manufacturers. The markets such as Indonesia, although currently small, are expected to register substantial growth in the future. Similarly, Middle Eastern and African countries such as Saudi Arabia and South Africa are experiencing increasing electricity demand, and are heavily reliant upon oil or gas for power generation. In these countries, the relatively less developed nature of renewable power makes thermal power a more acceptable alternative. Against this backdrop, power boilers are expected to experience considerable growth.
Dependency on coal-fired power generation due to growing electricity demand will drive power boiler installations globally. For decades, countries across the world have depended predominantly on fossil fuels to fulfill their electricity requirements. Fossil fuels such as coal, oil and gas have traditionally been relied upon as efficient and economical sources of energy globally. With the exception of a few countries, these fossil fuels have dominated all other energy sources in terms of both installed capacity and electricity generation. Power boilers, one of the key pieces of equipment in fossil fuel fired thermal power plants, are used to heat the feed water and convert it to steam. Global power boiler installations are estimated to amount to 9,072 units accounting for 845 Gigawatts (GW) of capacity between 2012 and 2020.
China will lead the power boilers market during the 2013-2020 forecast period. It has been one of the fastest growing industrial economies in recent decades. This rapid industrialization has created more space for electricity demand in the country, and the huge demand for electricity has resulted in many new power plants being set up. The low cost of power boilers in China is another reason for the countrywide demand for the equipment. As a result, the country has emerged as the fastest-growing market for power boilers.
GlobalData's report "Power Boilers, 2013 Update - Global Market Size, Average Pricing, Equipment Market Share and Competitive Landscape Analysis to 2020" provides detailed information on the current power boilers market, focusing on key countries as well as the global scenario. The report analyzes the market volume, average price, and market value for power boilers at different capacity segments for the key eight countries in the market and provides market shares for key players in each country. The major regulations impacting the power boilers market in each country are discussed as are the drivers and restraints of the global market.
To order this report:
Power Boilers, 2013 Update - Global Market Size, Average Pricing, Equipment Market Share and Competitive Landscape Analysis to 2020
Contact: Shauna
800.298.5699
Customerservice(at)marketresearch(dot)com
GlobalData
GlobalData is the premier source of actionable insight into the energy and healthcare industries. With the combined expertise of more than 1,000 researchers, market analysts and consultants, we provide high-quality, accurate and transparent industry insight that helps our clients to achieve growth and increase business value.
About MarketResearch.com
MarketResearch.com is the leading provider of global market intelligence products and services. With research reports from more than 720 top consulting and advisory firms, MarketResearch.com offers instant online access to the world's most extensive database of expert insights on global industries, companies, products, and trends. Moreover, MarketResearch.com's Research Specialists have in-depth knowledge of the publishers and the various types of reports in their respective industries and are ready to provide research assistance.
Follow us on Facebook: http://www.facebook.com/marketresearchdotcom.
Follow us on Twitter: http://www.twitter.com/marketresearch_.
Power Boilers, 2013 Update - Global Market Size, Average Pricing, Equipment Market Share and Competitive Landscape Analysis to 2020 - Table of Contents:
1 Table of Contents
2 Introduction
2.1 Power Boiler, Definition and Overview
2.1.1 Package Boilers
2.1.2 Power Boilers
2.1.3 Water-tube Boilers
2.1.4 Electrode Boilers
2.2 Power Boiler Market, Technological Roadmap
2.2.1 Advanced Boiler Technologies
2.2.2 Supercritical and Ultra Supercritical Power Generation
2.2.3 Integrated Gasification Combined Cycle
2.3 GlobalData Report Guidance
3 Power Boiler Market, Global
4 Power Boiler Market, US
5 Power Boiler Market, Germany
6 Power Boiler Market, Russia
7 Power Boiler Market, China
8 Power Boiler Market, India
9 Power Boiler Market, Indonesia
10 Power Boiler Market, Saudi Arabia
11 Power Boiler Market, South Africa