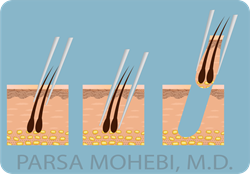 The FUE vs strip hair transplant study is important because it compares the short term and long term results of the two procedures. - Parsa Mohebi, MD
Los Angeles, CA (PRWEB) January 31, 2014
Dr. Parsa Mohebi, chairman of FUE Research Committee, is now enrolling participants for the newest FUE Research Study. This is one of the most scientific comparisons of FUE and strip methods ever performed in the field of hair restoration. The purpose of the FUE Research Study is to make viable comparisons between the FUE methods of hair transplantation versus the traditional Strip method (FUT). The FUE Research Committee strives to deliver the most up-to-date techniques and technology related to Follicular Unit Extraction (FUE) hair transplantation. According to Dr. Mohebi, "The FUE vs strip hair transplant study is important because it compares the short term and long term results of the two procedures. It will be comparing the survival rate, quality of the final hair follicle, preserved volume of the hair over a long term, and the overall success of the two methods."
This study will involve populations from different regions, increasing the generalization of the sample size in order to provide more accurate results. Hair restoration centers in California, New York, Colorado, India, and Brazil will enroll several participants for this study. Participants are required to attend a consultation with the hair transplant surgeon performing the study, to determine their eligibility. During the consultation, surgery method options will be discussed and then assigned. Participants will receive grafts using both the FUE and strip method in order to compare the hair survival, thickness, quality, and overall hair characteristics of the follicle. By observing both methods performed on one participant, results can accurately be measured which will yield more effective treatment methods for the future. Dr. Mohebi discussed the importance of testing both methods on a single subject and the efficacy that it generates, "In order to increase the validity of the research, we need to use the same subject to compare the results which will minimize the selection error."
The study is expected to last 14-18 months due to the prolonged rate of hair growth. It is mandatory for subjects to visit the hair transplant surgeon for six and twelve month follow up appointments to evaluate the progression and results of the hair transplant. Dr. Mohebi will be offering an incentive to all participants dedicated to the study for their time and commitment.
The FUE Research Committee anticipates significant results from this study that will increase the efficacy of the FUE method. Studies such as these will continue to be researched in the future in order to resume advancement of this field, and provide the most modern and effective techniques possible to all patients.
About US Hair Restoration:
US Hair Restoration was established in 2008 by Dr. Parsa Mohebi. As chairman of FUE Research committee and creator of the several methods and techniques in modern hair restoration, Dr. Mohebi and his staff provide the most advanced techniques in hair restoration. The overall goal at US Hair Restoration is to restore patient's self-esteem through the use of quality hair restoration.