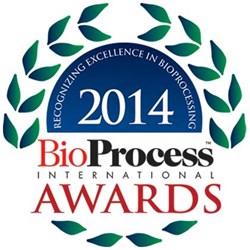 New York, NY (PRWEB) January 31, 2014
BioProcess International (BPI), a business-to-business publication dedicated to delivering cutting-edge information focused on the development and manufacture of biopharmaceuticals, vaccines, cell therapies and therapeutics, announces the nomination process in now open for the 2014 BioProcess International Awards – Honoring the People, Organizations and Technologies Impacting Innovation.
The 2014 BioProcess International Awards has been designed to recognize the outstanding achievements, leadership direction, collaborations, technologies and innovative business models that have had the greatest positive impact on the bioprocessing industry.
"Drawing upon the success of the 2012 award program, our mission for the 2014 awards is to provide acknowledgement of every facet driving industry advancements along with the contributions that have been instrumental in improving manufacturing processes," said Brian Caine, BioProcess International's Co-Founder and Publisher.
Awards will be granted recognizing excellence within the following categories of biopharmaceutical manufacturing:
THE PEOPLE:
Individual Achievement
Best Collaboration
Excellence in Leadership
Lifetime Achievement
THE ORGANIZATIONS:
Excellence in Facility Design or Retrofit
Emerging Company
Corporate Citizenship
Most Effective Licensing or Co-Marketing Collaboration
THE TECHNOLOGIES:
Best Technology Application - Upstream (user or supplier)
Best Technology Application - Downstream (user or supplier)
Best Technology Application - Analytical (user or supplier)
OVERALL:
Editor's Choice Award
About BioProcess International
BioProcess International is part of the T&F Informa BioScience Group, the leading provider of scientific, technological, and business information to the global life science community. Past winners of the BioProcess International awards include individuals from the following companies: Asahi Kasei Bioprocess , BAC BV, Bayer Cell Culture Development Group (US) and Technology Services (Germany), Colder Products Company, GE Healthcare, NIBRT (National Institute for Bioprocessing Research and Training), Pall Corporation , Percivia, LLC, Refine Technology, ReGenesys, Sartorius Stedim Biotech, Tosoh Bioscience and Xcellerex.
To submit a nomination for a leader in the biotech industry, or request sponsorship information , please visit: http://www.bioprocessintl.com/awards.