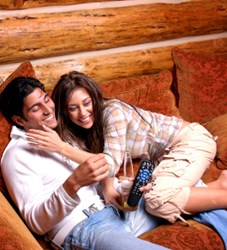 We want to provide couples a relaxing and enjoyable weekend in the heart of the Smokies.
Pigeon Forge, TN (PRWEB) January 31, 2014
With Valentine's Day approaching, Hearthside Cabin Rentals, the leading Pigeon Forge cabin rental company, has announced two steps to a romantic weekend in the Smoky Mountains. In recent years, the Smoky Mountains have become the ideal destination for a romantic trip.
According to Hearthside, the first step to a perfect romantic weekend is choosing a cabin rental. Their one bedroom cabins in Pigeon Forge offer a selection of amenities including relaxing hot tubs and spacious floor plans.
"We want to provide couples a relaxing and enjoyable weekend in the heart of the Smokies," said a spokesperson for Hearthside Cabin Rentals. "Showcasing unbeatable scenic views and warm fireplaces, these cozy mountain hideaways are the perfect place for quality time with one another."
The second way to easily create a romantic weekend are the in-cabin services provided by In-Cabin Services. Gift baskets range in price from $65.00 to $105.00. The gift basket themes available include breakfast foods, perfect picnic, snack attack, honeymoon basket, bed of roses and Pandora's box.
"Hearthside wants to create both a relaxing and romantic stay for guests by providing additional outside services without leaving the privacy and comfort of their cabin," said a spokesperson for Hearthside.
Private couple's massages are also offered by In-Cabin Services. A rejuvenating deep tissue massage provided by the massage therapists include a Basic Package, with aromatherapy and Swedish massage, or a Hot Stone Package, which includes aromatherapy and a one and a half hour hot stone massage. Ranging in price from $175 to $295, there's nothing more relaxing than a massage and an amazing mountain view.
In-Cabin Services also offers special meal delivery with choices of a year-round menu or fresh seasonal menu. The seasonal menu varies, but the year-round menu includes the choice of ribeyes or boneless pork loin chops, two baking potatoes, a freshly prepared salad and a pound cake with strawberries and whipped cream.
Hearthside offers special pricing on their cabins at various times of the year, as a thank you to guests who choose the cabin provider. Another thank you to guests is their free attraction ticket program for each night's stay.
Hearthside Cabin Rentals' one bedroom cabins are a rustic and charming retreat nestled in the mountains. For a stress-free and unique vacation, a Pigeon Forge cabin rental is the relaxing oasis couples need to get away for a weekend.
Hearthside Cabin Rentals and Property Management offers a variety of cabins in Gatlinburg, Pigeon Forge and Sevierville, Tenn. Hearthside Cabin Rentals has been family owned and operated, calling the Smoky Mountains home since 2003. Along with their 25 employees, owners Daniel and Janice McAllister work to ensure guests feel more like family than customers. All offices are located at 702 Wears Valley Road, Pigeon Forge, Tenn., and are open Monday- Friday 9 a.m.- 9 p.m. and Saturday-Sunday 9 a.m.- 8 p.m. For additional information, or to reserve a cabin, visit their website at http://www.hearthsidecabinrentals.com, or contact Hearthside Cabin Rentals by phone at 1(888) 993-7655.