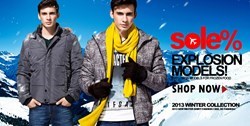 (PRWEB) February 07, 2014
Recently, Skmen.com, an experienced company that offers various kinds of high quality clothes, has released its new collection of comfortable casual men's shirts for gentlemen throughout the world. What's more, the company has launched promotion of the new items. Any order before the end of this month can get a discounted price, up to 30% off.
In fact, Skmen.com is a leading brand of top quality clothes for men and women. It is extremely famous for its affordable shirts that made according to the latest fashion trends. In addition to the fresh shirts, the company has also unveiled many products that come in different patterns and styles.
The CEO of the company says, "We are very proud for the new product announcement. This collection covers many hot styles. Now, all of them are offered at very low prices. Worldwide customers who are looking for wonderful and affordable shirts should seize the great opportunity."
Last but not least, the company's top designers are making every effort to create the best clothes clients from every part of the world. They are very concerned about customer need and satisfaction. As a result, the company's professional workers often communicate with frequent callers to get more inspiration.
About Skmen.com
Skmen.com, a China-based company founded in 2009, is one of the leading suppliers of men's and women's high quality clothes. It has more than 5000 customers from every part of the world; it hopes to help worldwide stylish ladies and gentlemen. For more detailed information about the company and its wonderful items, readers can visit http://www.skmen.com/product-men-s-shirts-009001.aspx.