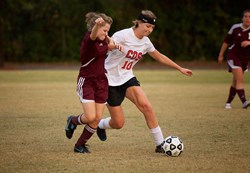 (PRWEB) February 03, 2014
Carrollwood Day School's senior, Alex Schweitzer, will be signing a letter of intent to play soccer at Virginia Tech Hokies, Wednesday, February 5, 2014. Alex has played varsity soccer for CDS since middle school and although a defender has scored multiple goals to help CDS win Districts this year.
She also has and still is played competitive soccer for Tampa Bay United.
The signing will occur at 8:15 a.m., Wednesday, February 5, 2014, at the CDS Bearss Avenue Campus located at 1515 West Bearss Avenue; Tampa, FL 33613. It will take place in the new theatre.
*****
Carrollwood Day School serves students from 2-years-old through high school from Hillsborough, Pasco and Pinellas counties. Carrollwood Day School stands out as a leader in its mission to educate the whole child and is recognized nationally for its academic excellence and its innovative school-wide emphasis on character development. CDS was the first school on the west coast of Florida authorized by the prestigious International Baccalaureate Organization to offer the Primary Years Programme for students through grade 5, the IB Middle Years Programme that is implemented in grades 6 – 10 and the IB Diploma Programme for students in grades 11 and 12.
Carrollwood Day School is a non-sectarian, co-educational, independent day school accredited by the Florida Council of Independent Schools (FCIS), Florida Kindergarten Council (FKC), International Baccalaureate Organization (IBO) and National Association for the Education of Young Children (NAEYC). CDS admits qualified students of any race, color, and national or ethnic origin and is non-discriminatory in all policies and school administered programs.