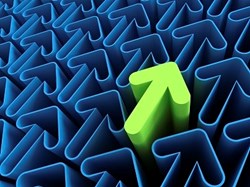 Verian's remarkable progress is due to our outstanding people, our fantastic customers, our market leadership, and our strategy for growth.
Charlotte, NC (PRWEB) February 03, 2014
Addressing the largest employee meeting ever assembled at Verian's corporate headquarters, Tehseen Ali Dahya, President and Chief Executive Officer described 2013 as the most successful year in the company's history.
"We have made tremendous strides in the past 12 months," said Dahya, looking out over the audience of more than 80 employees, "Verian's remarkable progress is due to our outstanding people, our fantastic customers, our market leadership, and our strategy for growth."
Following an exciting 2013 employee awards ceremony, company executives addressed the group to highlight Verian's record 2013 performance in the areas of sales, company expansion, new products, and customer experience.
Biggest Sales Order Year Ever
2013 was the biggest year for new client acquisitions in the history of Verian. Compared to 2012, new business grew by 102%, shattering projected targets.
Verian added new customers in industries ranging from hospitality, financial services, energy/oil & gas, healthcare, non-profit, and heavy equipment dealerships.
Verian now has over 225 customers, 250,000 users, and manages more than $16,000,000,000 in spend annually.
Rapidly Expanding Team and Global Footprint
The Verian team expanded by 30.5% in 2013, adding new team members company-wide in key areas such as sales, marketing, product management, client relations, finance and administration, engineering and IT, professional services, and client care.
Verian's consistent emphasis on employee engagement was recognized in 2013 with a Best Places to Work Award, presented by The Charlotte Business Journal. Building upon prior years, Verian expanded its global footprint to offer solutions to clients in 60 countries.
Dramatic Pace of New Product Development
Verian released six (6) new versions of its broad, flexible purchase to pay software suite to the Cloud in 2013, introducing numerous new features that enhanced user experience, and further solidified the company's position as the leader in helping organizations achieve world class cost control.
Impressive Customer Experience Milestones
Verian exceeded 2013 objectives for both faster and better customer implementations. The company's Professional Services (PSO) team performed 33% more system go lives in 2013 than in any previous year. Furthermore, PSO established the "90-Day Difference", setting and delivering on a standard 90-day SaaS rapid implementation schedule. SaaS conversions for existing customers on legacy solutions were completed in less than 60 days.
During his closing remarks at the company meeting, Tehseen Ali Dahya, President and CEO of Verian indicated that he was enthusiastic about the company's prospects for continued growth in 2014. "We have an exceptional team, and an amazing market opportunity," said Dahya, "As we continue to focus on speed of execution, customer success and experience, and cohesive teamwork, we can definitely build on our momentum."
About Verian
At Verian, we help organizations achieve world class cost control by putting all spending details at their fingertips in our broad, comprehensive purchase to pay software suite. With over 200 successful implementations, we get it right the first time, configuring software solutions that address companies' unique challenges and industry specific complexities. We drive value beyond implementation by helping organizations bring every pocket of spend under management with our proven See-Manage-Save™ approach. Learn more by visiting our website at Verian.com, or by reading our Verian blog. Stay current on Verian happenings by following us in social media on LinkedIn, Facebook, or Twitter.