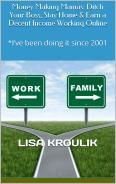 Minneapolis, MN (PRWEB) February 04, 2014
Lisa Kroulik is a freelance writer and an entrepreneur at heart. Before she found her stride in the writing world, Lisa worked from home as an affiliate marketer, online seller, and a virtual assistant. She has worked at home in some capacity for most of the past twelve years. People ask her how she does it so often that she decided to write a book to answer that question. The result is a brand new book that is available in Kindle and Nook formats.
The introduction of "Money Making Mamas" describes the author's own desire to work from home and the journey she took to get there. She then goes on to present in-depth information about five different work-at-home opportunities, including the ones already mentioned. Since the author has done most of the at-home jobs she discusses, her personal experience lends credibility to her narrative. Each chapter begins with a broad-level overview of the work-at-home opportunity before getting into the specifics of what you need to do to start working in that area.
The visual aids and referrals to online resources help readers form a sense of what working in that field is really like. Lisa provides approximate figures for what you can expect to earn where it is appropriate. In addition to the detailed accounts of several work-at-home jobs, Lisa provides readers with guidance about tax issues, PayPal, and other ways to get paid for online work. She discusses the equipment and skills readers may need as well as the personal characteristics it takes to be successful as an at-home worker.
This book is a practical and realistic guide for anyone who desires to work from home to maintain maximum flexibility with his or her schedule. The author never promises that readers will get rich following any of her suggestions. As she states in the opening pages of her book, she has "a heart for mothers who want to be at home and a passion for self-employment." This book is appropriate for parents, students, moonlighters, and anyone else who wants to use the power of the World Wide Web to make a living. Lisa Kroulik provides the tools, but what readers do with them is completely up to them.
PRODUCT DETAILS:
File Size: 1819 KB
Print Length: 98 pages
Simultaneous Device Usage: Unlimited
Sold by: Amazon Digital Services, Inc.
Language: English
ASIN: B00I5G7YFU
Text-to-Speech: Enabled
X-Ray:
Not Enabled
Lending: Enabled
ABOUT THE AUTHOR
Lisa Kroulik is a freelance writer who enjoys writing about abuse recovery and self-employment issues. "Money Making Mamas" is her first publication in this genre. In 2013, she also released "Emotional Assault: Recognizing the Abusive Partner's Bag of Tricks" and "Invisible Witness: How Watching My Father Abuse Others Affected every Area of My Life". Lisa Kroulik is also available to meet your online content creation needs.