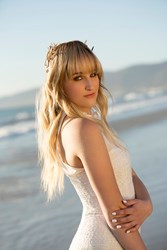 (PRWEB) February 04, 2014
On October 8th, 2013, Camryn released her single 'Lovesick' on iTunes and to Top 40 radio in the US and instantly broke records by becoming the #1 Most Added Debut Female and the #1 Most Added Indie Artist for a second time in her career. The single quickly climbed the charts and also made the single the #1 Most Added Debut Pop Record beating out Miley Cyrus and Ke$ha with adds for that week.
This week, 'Lovesick' broke onto the Top 40 chart and is continuing to break new records. Camryn is currently the youngest indie artist to chart at Top 40 since LeAnn Rimes in 1997 with 'How Do I Live'.
Camryn showcased her single while she was opening for One Direction for 63 sold out arena shows across Europe on the 'Take Me Home Tour'. During this time, Camryn recorded footage from interviews, appearances, her performances and hanging out with fans to put together the ultimate tour diary music video. The video highlighted some of Camryn's favorite tour moments as well as some behind the scenes from her latest photo shoot with Celebrity Photographer Emily Soto. The music video debuted on MTV on October 8th to coincide with the worldwide release, and since has been added to the MTV Hits playlist and being seen worldwide. (Click here to listen to and watch Lovesick now!)
The single is currently charting in the US at Top 40 radio and is still climbing with more and more adds weekly. Camryn is currently available for interviews, appearances and performances.