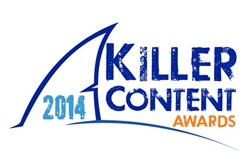 (PRWEB) February 05, 2014
Demand Gen Report (DGR) has announced that nominations are now being accepted for the third annual Killer Content Awards, recognizing organizations that have innovatively set the bar in content marketing tactics. Nominations will be accepted through April 6, 2014.
Winners will be honored at an awards ceremony May 7, 2014 in New York City at Pershing Square Signature Center, during Demand Gen Report's B2B Content2Conversion Conference, an educational and networking event focused on helping B2B marketers develop, map and optimize content marketing strategies.
Content, including E-books, white papers, case studies, blogs, newsletters and webinars, has emerged as a key discipline for B2B companies to provide insight on current industry trends and concerns, while spreading awareness of solutions and services. The Killer Content Awards highlight those who create and execute the process at the highest level.
"Our team was very proud to be a winner of a Killer Content Award in 2013, as it recognized a lot of hard work put in by a lot of different cross-functional members of our team," said Christine Elliott, Content Strategy Leader, Crowe Horwath. "Our lead nurturing program has generated impressive results in improved open and click through rates and has already helped close new accounts for our sales team. We are anxious to be part of the Awards program going forward and hope to pick up a few new ideas we can apply to our own content and campaigns moving forward."
"More and more companies are submitting nominations for The Killer Content Awards, honoring innovative approaches in all areas of content creation," said Andrew Gaffney, Editor, Demand Gen Report. "Content creation continues to grow as an avenue for B2B organizations to communicate a specific message to their targeted audience. We're confident this year's nominations will reflect that growth."
B2B organizations can nominate their content by filling out the short nomination form at this link.
Winners will be chosen based on — but not limited to — the following criteria:

Social media and targeted content marketing
Educational content that informs and inspires buyers
Linking content to measurable, revenue-focused results
Using video and interactive content in new and creative ways
Deploying content that drives successful, cross-channel campaigns
Hosted by Demand Gen Report, the B2B Content2Conversion Conference is an educational event focused on strategies for mapping, developing and utilizing content marketing to nurture the buyer relationship and enhance conversions. The event will be held May 6-7, 2014 in Manhattan at The Pershing Square Signature Center. Click here for more information or to register.
About Demand Gen Report
Demand Gen Report (DGR), a division of G3 Communications, is a targeted e-media publication spotlighting the strategies and solutions that help Business-2-Business (B2B) companies better align sales, marketing and disparate teams to support growth and drive revenue. DGR content and news coverage focuses on the sales and marketing automation tools that enable companies to better measure and manage multichannel demand generation efforts. Demand Gen Report is the only information source directly focused on this rapidly emerging business discipline.