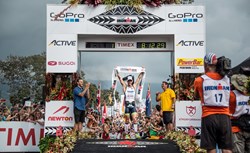 Bozeman, MT (PRWEB) February 04, 2014
Polar V800 is the new triathlon watch for multisport enthusiasts due out in Late April 2014 according to the Heart Rate Watch Company.
"Details were spotty two weeks ago and we have uncovered some new information that is worth making consumers aware of," says Rusty Squire, President of the Heart Rate Watch Company. He adds, "The Polar V800 will have a rugged Gorrilla glass lens that can take a beating and the feature solutions to take on Garmin and Suunto."
Other Unique Features
Polar V800 will be waterproof and can measure heart rate underwater, not even Garmin or Suunto can accomplish that. "Polar V800 will also interface with Polar Flow app and can wirelessly transfer data, even in real-time plus it has tool to assess your needed recovery and tools to help coaches plan your training," says Squire.
Seamless Multisport Switchover
"V800 can switch seamlessly between sports while even timing transition times so in this regard it is fully evolved to the point of the Garmin 910XT," says Squire.
Training Load, Recovery Analysis and Targets
The V800 with the Polar Flow App will look at your training load, give you recovery targets in hours and even sync your targets to your wrist unit to guide your training," says Squire. He adds, "No other company has spent the kind of time in the Human Performance Lab than Polar has and it shows in the data their products produce."
Altitude Compensated Calories
"Polar has always been the most accurate on calories of any other heart rate monitors in our testing and now they are using the altimeter to further adjust calories producing altitude compensated calories," says Squire.
Pre-Order Now
"You can pre-order your Polar V800 now at the Heart Rate Watch Company and we won't charge your credit card until it is shipped in April," says Squire. He adds, "If you'd like to talk to some real experts then simply call us at 866-586-7129."