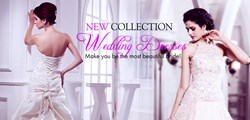 (PRWEB) February 10, 2014
Recently, Fairyin.com, a famous online supplier of wedding dresses and women's special occasion gowns, has stated that French channel is available at its website. In addition to that, it has also announced its latest collection of prom dresses. All of these brand new gowns are available at discounted prices at the moment.
As a matter of fact, Fairyin.com hopes to offer one-stop dress solutions for worldwide ladies. The new prom gown selection comes in various hot colors, including gorgeous gold, radiant reds, light green, elegant purple, cool blue and so on. A lot of them are available in different sizes.
The CEO of the company states, "We are excited to announce our new products. I believe that these fashionable outfits will be popular among worldwide chic ladies. I hope customers from all over the world can enjoy the one-stop shopping experience at our online store. Now, ladies don't have to pay exorbitant amounts of money to look graceful."
As one of the most preferred companies in the international market, the company is always trying its best. Its top experts are making every effort to create more affordable and beautiful dresses for new and old clients. What's more, all its online workers are professional.
About Fairyin.com
Founded in 2008, Fairyin.com is one of the recognized leaders in women's dresses specializing in providing high-quality trendy dresses for all its clients around the world. The company has a group of designers who create elegant designs for customers all over the world.
To find more information about the company's products, readers can visit:
Website: http://www.fairyin.com/fr/.
Facebook: http://www.facebook.com/Fairyin
Twitter: http://twitter.com/Fairyin