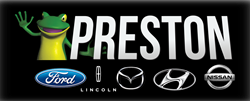 "Customer Service is our #1 priority in 2014," says David Wilson Jr., Vice President of Preston Automotive Group. "We want to know your side of the story."
Hurlock, MD (PRWEB) February 05, 2014
Preston Automotive Group today announced a campaign to encourage feedback from their customers and stakeholders. Preston will be using both a Facebook application and landing page to collect feedback from customers on their experiences with their dealerships. Those who participate in the "Hear Your Story" campaign will be entered for the chance to win a $50 gas gift card.
"Customer service is our #1 priority in 2014," says David Wilson Jr., Vice President of Preston Automotive Group. "We want to know your side of the story."
The Preston Automotive Group is coming off of one of their best sales years ever as their dealership Preston Ford ranked 1st in the Washington, D.C. region and 90th in the United States in the year 2013. This was capped off with a record breaking December for new Ford sales. Looking forward to this year, Preston hopes that this campaign will enable them to hear back from customers after such a successful year to further build the Preston brand. Part of the Preston Automotive mission statement is to create an experience that will result in customers choosing Preston for all the services they provide and this campaign will meet that mission.
The feedback campaign will run throughout the month of February and will end at 11:59 PM EST on February 28th. Preston is encouraging feedback on multiple channels including Google+, Cars.com, Edmunds, and Yelp, but contest entry is limited to one entry per person.
About Preston Automotive Group
Preston Automotive Group is a premier Maryland Ford, Hyundai, Lincoln, Mazda, and Nissan dealer. For 3 out of the last 4 years Preston has been one of the top 100 Ford dealerships in the United States due to a strong buy-in from the local community. Preston Automotive Group is the parent company of multiple subsidiaries including Preston Ford, Denton Ford, Pittsville Ford, Preston Mazda, Preston Hyundai, Preston Lincoln, Preston Nissan, Preston Auto-Body, Snow Hill Auto-Body, Cambridge Auto-Body, and Millsboro Automart.