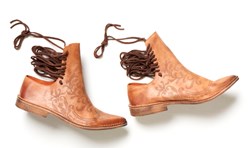 Granting retailers the opportunity to completely outfit clients in Free People has always been a goal of ours.
Philadelphia, PA (PRWEB) February 05, 2014
Specialty fashion brand, Free People, announces that it will be adding footwear to its wholesale assortment alongside its highly successful lines of apparel and intimates. The debut assortment will be sold to retailers for deliveries in Autumn/Winter 2014, hitting stores shortly after styles are premiered exclusively on the Free People App and ecommerce site. Approximately 20 styles in multiple colors and patterns will become available to retailers the first week in February with suggested retail prices ranging from $168-$428.
"Granting retailers the opportunity to completely outfit clients in Free People has always been a goal of ours," says Free People Managing Director of Wholesale, Krissy Meehan. "We are very excited to begin operating our wholesale business at this pace alongside our 90 dedicated boutiques and ecommerce site."
To create the debut collection, Free People teams traveled the world gaining inspiration and working hands-on with craftsman to produce exceptional footwear true to the brand. The A/W 2014 collection features distressed and embossed leather, printed suede, and blanket stitch detailing, giving each style a bespoke appeal made of quality leathers sourced in Spain and Portugal. Ranging in colors from bottle green, saddle brown, and camel, to rusty red and steel blue, the pallet echoes the brand's earthy aesthetic with pops of vibrancy. Signature ankle booties, wooden-heeled clogs, fringed moccasins, and tall buckled boots are just a few of the styles in the debut range, with select silhouettes boasting extra longevity with leather heels and outsoles.
"We want our customers to feel like Free People shoes are what they've always searched for, but could never find: a brand-new shoe that feels well-loved and possesses character right out of the box," says Ana Hartl, Free People Director of Creative.
Those interested in more details on retailing the new collection should contact Free People's wholesale office at (212) 938-2760. Customers on the lookout for the collection, should download the Free People App and like the brand on Facebook for the latest updates.
###
About Free People
Free People is a specialty clothing brand featuring the latest trends and vintage collections for women who live free through fashion, art, music, and travel. The eclectic look consists of quality apparel, shoes, and accessories that invoke attributes of femininity, spirit, and creativity with its design. Free People is distributed globally via direct channels including the Free People Global site and Free People UK site, as well as specialty boutiques, top department stores, and the brand's free standing retail locations in the U.S. and Canada.