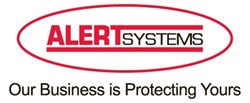 'The use of CCTV security systems offers protection for equipment and stock, and peace-of-mind for your customers and staff
(PRWEB UK) 4 February 2014
As reported by Portsmouth's The News, in an article entitled 'Police issue CCTV picture after spirits theft', published on the 30th of January, 2014, Police are seeking to speak with two people pictured in CCTV footage that has now been released in an appeal for further information following the alleged theft of alcohol in Waitrose on Palmerston Road in Southsea.
The two people pictured in The News are wanted in connection with the crime; it is believed that bottles of Jack Daniels, Martell, Cognac and Bacardi were all concealed within a bag. The man has a shaved head and the women seen with him is pictured with dark hair and wearing a bright red Paul's Boutique jacket. The offence allegedly occurred on Saturday the fifth of January.
Experts in providing top of the line CCTV security systems, AlertSystems are interested in all of the latest, most relevant news about CCTV. A spokesperson for the company has commented on the appeal:
'Commercial security systems play an intrinsic role in the protection of stock and company assets in a range of different businesses. The footage that CCTV security cameras capture is able to provide vital evidence to police investigations; in the unfortunate scenario that a crime occurs, CCTV can assist in identifying what happened and identifying those involved.
'The use of CCTV security systems offers protection for equipment and stock, and peace-of-mind for your customers and staff. In addition to its passive functions, is the fact that CCTV cameras are often seen as an actively preventative measure; the presence of a camera can often make criminals think twice.'
AlertSystems manage and maintain over 5000 security installations throughout the UK and are specialists in providing business security solutions. Offering professional service and a complete range of security services such as monitored alarm systems, Automatic Number Plate Recognition and Avigilon CCTV security systems. AlertSystems offers effective and reliable solutions to security problems.