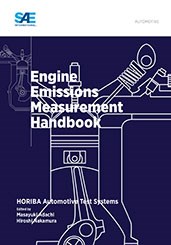 SAE International's book, 'Engine Emissions Measurement Handbook,' addresses the main aspects of this subject.
Warrendale, Pa. (PRWEB) February 04, 2014
The subject of engine emissions is expected to be at the forefront of environmental regulations and consumers' concerns for years to come. As technology develops to comply with new and different requirements in various regions of the world, understanding the fundamental principles of how engine emissions occur, and how they can be properly measured, is vitally important. SAE International's book, "Engine Emissions Measurement Handbook," addresses the main aspects of this subject.
Developed and co-authored by HORIBA, "Engine Emissions Measurement Handbook," is written with the technical user in mind, this title is a must-have for those involved in engine development and testing, and environmental researchers focusing on better ways to minimize emissions pollution.
Using easy-to-understand language, Engine Emissions Measurement Handbook covers, among others, the following topics:

Measurement of gaseous emissions
Measurement of particulate emission
Evaporative emissions measurement
Principles of exhaust gas analyzers
Vehicle emissions testing equipment
Emissions measurement applications
Emissions regulations around the world
The book is authored by Hiroshi Nakamura and Masayuki Adachi. List price of the book is $75.00.
For more information, including free front and back matter, or to order "Engine Emissions Measurement Handbook," visit: http://books.sae.org/jpf-hor-002/.
Review copies are available for members of the media. To request an electronic review copy of the book, email pr(at)sae(dot)org. Forward published reviews to Shawn Andreassi at pr(at)sae(dot)org or SAE International, 400 Commonwealth Dr., Warrendale PA, 15096-0001, to receive a print copy of the book or another equivalent SAE International book.
About HORIBA
Headquartered in Kyoto, Japan, the HORIBA Group of worldwide companies provides an extensive array of instruments and systems for applications ranging from automotive R&D, process and environmental monitoring, in-vitro medical diagnostics, semiconductor manufacturing and metrology, to a broad range of scientific R&D and quality control measurements.
HORIBA Automotive Test Systems
Part of HORIBA Instruments, Inc., HORIBA Automotive Test Systems has developed global leadership in the exhaust gas analysis, powertrain research and development and various certification test system fields. HORIBA ATS is able to provide total solutions to its customers, with full turnkey capability for driveline, engine, powertrain and vehicle tests. HORIBA ATS serves manufacturers and suppliers in every industry that utilizes internal combustion, turbine engines, including automotive, heavy-duty/off road, lawn and garden, marine, aerospace, locomotive and recreational and utility vehicles.
In North America, HORIBA Instruments and HORIBA ATS have facilities in Ann Arbor and Troy, Mich.; Irvine, Calif.; and Oakville, Ontario, Canada. The Ann Arbor facility is HORIBA's North American center of excellence for vehicle emissions test equipment. The Troy operation is the company's global center of excellence for driveline testing.
About SAE International
SAE International is a global association committed to being the ultimate knowledge source for the engineering profession. By uniting over 138,000 engineers and technical experts, we drive knowledge and expertise across a broad spectrum of industries. We act on two priorities: encouraging a lifetime of learning for mobility engineering professionals and setting the standards for industry engineering. We strive for a better world through the work of our charitable arm, the SAE Foundation, which helps fund programs like A World in Motion® and the Collegiate Design Series™.