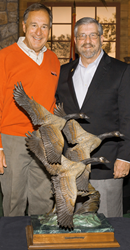 'All of us at Bass Pro Shops are proud to honor Dale Hall and Ducks Unlimited for everything they have done to conserve habitat,' said Bass Pro founder and CEO Johnny Morris.
MEMPHIS, Tenn. (PRWEB) February 04, 2014
Ducks Unlimited (DU) CEO Dale Hall has been named Bass Pro Shops' 2013 Conservation Partner of the Year. Johnny Morris, founder and CEO of Bass Pro, recently presented Hall with the prestigious award during a special ceremony at Bass Pro's national headquarters in Springfield, Mo.
"This is such an honor for me and our entire Ducks Unlimited family to be recognized by an organization we hold in such high regard," said DU CEO Dale Hall. "Johnny Morris and all the associates at Bass Pro Shops are great partners and contribute so much to conservation each and every day. I am humbled by this wonderful recognition."
Hall has served as CEO of DU since 2010 and during his tenure the organization has celebrated numerous milestones including DU's 75th anniversary. The organization has achieved numerous conservation goals under Hall's leadership, including 13 million acres conserved, making DU one of the world's largest and most effective wetlands and waterfowl conservation organizations.
"All of us at Bass Pro Shops are proud to honor Dale Hall and Ducks Unlimited for everything they have done to conserve habitat," Morris said. "DU is one of the foremost conservation organizations, and they continue to deliver on their mission to conserve, restore, and manage wetlands and other important habitats for North America's waterfowl."
Prior to joining DU, Hall was the director of the U.S. Fish and Wildlife Service from 2005 to 2009. During his 31-year career with the U.S. Fish and Wildlife Service, he served in numerous roles at local, regional and national levels. Before joining the USFWS in 1978, Hall spent four years in the U.S. Air Force, where overseas assignments took him to Italy and the Philippines.
DU and Bass Pro Shops have a rich history of working together on behalf of conservation, with the most recent project being the Waterfowling Heritage Center. Bass Pro Shops has given space at their future store in the Memphis Pyramid to create a Waterfowling Heritage Center in cooperation with DU. This museum will serve to inform and entertain millions of visitors, including schoolchildren as well as shoppers and tourists, who are interested in wildlife and learning the value of hunting and conservation.
For more information about the Conservation Partner of the Year award, visit http://www.bassproshops.com.
About Ducks Unlimited
Ducks Unlimited Inc. is the world's largest non-profit organization dedicated to conserving North America's continually disappearing waterfowl habitats. Established in 1937, Ducks Unlimited has conserved more than 13 million acres thanks to contributions from more than a million supporters across the continent. Guided by science and dedicated to program efficiency, DU works toward the vision of wetlands sufficient to fill the skies with waterfowl today, tomorrow and forever. For more information on our work, visit http://www.ducks.org. Connect with us on our Facebook page at facebook.com/DucksUnlimited, follow our tweets at twitter.com/DucksUnlimited and watch DU videos at youtube.com/DucksUnlimitedInc.
About Bass Pro Shops
Bass Pro Shops, which specializes in outdoor fun, operates 79 retail stores and Tracker Marine Centers across America and Canada that are visited by more than 116 million people every year. Bass Pro Shops' stores, many of which feature restaurants, offer hunting, fishing, camping and other outdoor gear while their catalogs and website serve shoppers throughout the world. The company's Tracker Marine Group (http://www.trackermarine.com/), which has produced the number one selling brand of fishing boats for more than 35 years, manufactures and sells a variety of boats for fishing and cruising. Family fun is on tap at Bass Pro Shops' resort Big Cedar Lodge (http://www.bigcedar.com/) voted number six by Travel + Leisure Magazine as World's Best Hotels for Families. For more information, visit http://www.basspro.com/. To request a free catalog, call 1-800-BASS PRO. Follow us on Facebook at http://www.facebook.com/bassproshops.