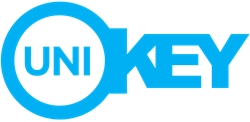 Winter Park, FL (PRWEB) February 05, 2014
From the boardroom on ABC's Shark Tank to your front door, UniKey has recently shipped their 100,000th unit to meet consumer demand in the smart lock market. In partnership with North American residential lock market leader, Kwikset, UniKey is powering the first-to-market smartphone enabled smart lock, Kevo.
Capitalizing on a strong showing at CES where their technology propelled Kevo to the coveted "Last Gadget Standing Award", UniKey has established its place in the growing industries of home automation and the Internet of Things (IoT). Industry analysts predict these industries will hit $10 billion this year, growing to $4 billion by 2017, according to wireless industry group GSMA.
UniKey's President Phil Dumas, who delivered mass market access control solutions prior to founding UniKey in 2010, believes unique solutions that are focused on a single product experience will ultimately win in the home automation space.
"It is clear that consumer acceptance of a single product experience that is well-executed, is beginning to win in the home automation space. We see Nest as a model company that improved an everyday solution like a thermostat and redefined the home automation market to a single product with a well-executed product experience. Eventually, everything will talk to everything else, but that is not where the value is, the value is in the convenience that the single product alone can offer." Dumas said.
UniKey continues to enable companies to provide innovative access control solutions to their product offerings. In partnership with market leaders in their respective industries, UniKey technology is moving beyond the front door. Dumas sees a world where UniKey will eliminate the everyday keys, PINs & passwords that dominate our daily lives, delivering convenience and control into formerly unintelligent solutions.
Kevo is sold by Kwikset® in the USA and Weiser Lock in Canada. Kwikset and Weiser are leading brands of the Hardware & Home Improvement (HHI) division of Spectrum Brands Holdings (NYSE:SPB). Kevo launched in October 2013, and can be purchased from leading online resellers and retailers including: Apple.com, Amazon, Best Buy, Brookstone, Future Shop, Home Depot, Lowes, NewEgg and Verizon Wireless.
About Kwikset
Hardware and Home Improvement (HHI) is a major manufacturer and supplier of residential locksets, residential builders' hardware and faucets with a portfolio of renowned brands, including Kwikset®, Weiser®, Baldwin®, National Hardware®, Stanley®, FANAL®, Pfister™ and EZSET®. HHI is a leader in its key markets with #1 positions in U.S. residential locksets (Kwikset), Canada residential locksets (Weiser), U.S. luxury locksets (Baldwin), and U.S. builders' hardware (Stanley-National Hardware), #2 in Mexico residential hardware (Fanal), and #3 in U.S. retail plumbing (Pfister). Headquartered in Orange County, California, HHI has a global sales force and operates manufacturing and distribution facilities in the U.S.,
About UniKey
UniKey is a technology innovator focused on access control. UniKey's patent-pending "touch-to-open" system can be easily integrated into lock or code systems making your smartphone your key. This technology affords secure access by simply touching your lock without removing your phone from pocket or purse. UniKey serves the mass market by licensing technology, and works in partnership with trusted market leading companies, including Kwikset for residential door applications in North America.
For more information on UniKey, please visit http://www.unikey.com.