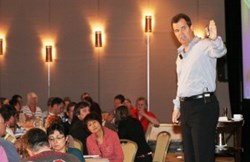 Along with sharing the secret to securing bargain properties at any time of the year and in any location, I'll also show participants how to make positive cashflow from day one
(PRWEB) February 05, 2014
With Queensland auction rates on the rise and experts upbeat about the outlook for 2014, one of the biggest dilemmas faced by property investors still on the sidelines is how to hunt out genuine bargain properties. Creative real estate authority, Rick Otton, will reveal the answer to this – and a multitude of other crucial questions – at a free property summit on Sunshine Coast 20 February, Brisbane 22 February and Gold Coast 23 February.
The one-off Ready Set Boom event in these major cities will guide Queensland real estate investors through non-conventional strategies to help them seize control of their financial futures.
"Along with sharing the secret to securing bargain properties at any time of the year and in any location, I'll also show participants how to make positive cashflow from day one, build property portfolios without their own money invested and without new bank loans," the property millionaire said.
"Other innovative tips for buyers include how to avoid credit checks, bad tenants or house repairs."
Real estate in Queensland
News of Mr Otton's Ready Set Boom National Event coincides with data that shows the state's auction market is ramping up after a quiet festive period.
Industry analysts say buyers are now ready to act on the Gold Coast, Sunshine Coast, and Brisbane, with a "high level of buyer inquiries, good attendances at open homes, increased appraisals on homes and more property starting to come on the market".
Mr Otton said while Queensland property investors were still able to find value-for-money properties for sale, it was becoming increasingly tough to do so.
"The solution is to find win-win situations that may be unusual but that work, so that you can win financial freedom and long-term wealth," he said.
"Some of my students, for example, found a seller who was in mortgage distress and matched them up with a buyer who, although financially capable, couldn't secure bank financing. They arranged a deal based on creative real estate conditions and everyone was happy!"
Mr Otton said the National event could not be missed by buyers, sellers or anyone serious about winning a ticket to financial wealth. The one-day intensive is part of a national tour Mr Otton is holding as part of his mission to help Australians succeed through property investing.
To register for one of Mr Otton's free Australian one-day events or to register, visit http://www.readysetboom.com.au
About Rick Otton
For over 23 years property millionaire Rick Otton has built an impressive real estate portfolio using innovative strategies that he has developed – strategies in which transactions are made without the need for traditional bank-type loans. He constantly refines his techniques as he buys and sells properties through his We Buy Houses business which operates in Australia, New Zealand and the UK.
A gifted speaker and educator, Mr Otton conducts regular one-day free seminars across Australia, which build on the the concepts he shares in his 2012 book 'How To Buy A House For A Dollar', voted by Money Magazine and Dymocks Book stores as one of the Top 10 Most Popular Finance Titles for 2013.
He regularly records and publishes iTunes podcasts via his channel Creative Real Estate.
His innovative low-risk, high-reward approach to Australian real estate investing has been featured in a variety of television programs and magazines, including Today Tonight, Hot Property and Australian Property Investor.
To register for one of Mr Otton's free Australian one day seminars visit http://www.readysetboom.com.au or phone, in Australia, 1300 888 450.