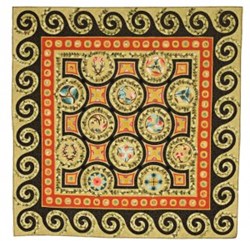 Phoenix, AZ (PRWEB) February 06, 2014
American Quilter's Society, the largest quilting membership organization in the world, is pleased to announce the winners of the AQS Quilt Contest. Over $50,000 in prizes will be awarded to the winners at AQS QuiltWeek® - Phoenix, AZ, taking place from February 5 to February 8 at the Phoenix Convention Center, 100 N 3rd St., Phoenix, AZ 85004.
As part of the American Quilter's Society's celebration of quilting excellence, the contest recognizes the skill and creativity of today's quiltmakers, as artists compete in the AQS Quilt Contest for more than $50,000 in cash awards. Entries come from around the world to compete in 13 different categories.
This year's winners come from three different countries and over a dozen different states, with several prize winners from the host state of Arizona. These winning quilts will astound the 15,000 quilters expected to visit AQS QuiltWeek® in Phoenix, Arizona, this week.
The AQS Quilt Contest Prize Winners are as follows:
Best of Show Award
ISABELLE, Kathi Carter, Vineyard, Utah
Best Wall Quilt Award
HURRICANE, Janneke de Vries-Bodzinga, Kollumerzwaag, Friesland, Netherlands
Best Traditional Quilt Award
SYMPHONY OF PRAISE, Royal Inland Hospital Auxiliary Quilters, Whitby, Ontario, Canada
Best Innovative Quilt Award
WANDERING 'ROUND MY WORLD, Beth Schillig, Columbus, Ohio
Best Modern Quilt Award
KEEP IT SIMPLE, Jodi Robinson, Enon Valley, Pennsylvania
Best Computer-Aided Quilt Award
RENAISSANCE, Theresa Fetch, Uvalde, Texas
Bed Quilts – Traditional
First MISTAKEN IDENTITY, Gail Stepanek and Jan Hutchison, New Lenox, Illinois
Second FLOWER BASKET MEDALLION, Renee Caswell, Scottsdale, Arizona
Third ELATED, Ted Storm, 's-Gravenzande, Zuid-Holland, Netherlands
Hon. Mention A SPLENDID DISPLAY, Cindy Seitz-Krug, Overgaard, Arizona
Bed Quilts – Innovative
First SPIRIT, Georgia Spalding Pierce, Seattle, Washington
Second MAGNOLIA, Claudia Clark Myers and Marilyn Badger, Duluth, Minnesota
Third MY SEDONA STAR, Joyce Triezenberg, Grayling, Michigan
Hon. Mention OH, MEXICO BEACH, Jane Zillmer, Mercer, Wisconsin
Bed Quilts – Computer-Aided
First DRESDEN'S DILEMMA, Deborah Poole and Sharon Del Pino (deceased), Shelley, Idaho
Second CHOCOLATE AND BLUEBERRIES, Dawn Larsen, Vernon Hills, Illinois
Third THISTLE PODS, Marilyn Brocklebank and Doreen Wilken, Walkerton, Ontario, Canada
Hon. Mention BOTANIQUE JARDIN, Ginger Carter and Clem Buzick, Fargo, North Dakota
Wall Quilts – Traditional
First UPPER BODY WORKOUT IMPROVED, Laura Trenbeath, Pavillion, Wyoming
Second KOOTENAY PEONY, Dawn Fox Cooper, Procter, British Columbia, Canada
Third OBSESSION, Mary Bauer, Crestwood, Kentucky
Hon. Mention TWO TO TANGO, Terri Doyle, Gilbert, Arizona
Wall Quilts – Innovative/Art
First A POCKET FULL OF PAISLEYS, Lorilynn King, Longmont, Colorado
Second MORE THAN A MEMORY, Kathy McNeil, Tulalip, Washington
Third SAVORING TWILIGHT IN VENICE, Patsy Kittredge, Sedona, Arizona
Hon. Mention AUTUMN FAERY, Diane Hansen, Chandler, Arizona
Wall Quilts – Modern
First CYCLES 2, Leanne Chahley, Edmonton, Alberta, Canada
Second FISSURES, Debra Jeske, Lynnwood, Washington
Third UNRAVELING #2, Judy Tescher, Pendleton, Indiana
Hon. Mention THOROUGHLY MODERN MILLIE, Karolyn "Nubin" Jensen, Tucson, Arizona
Wall Quilts – Computer-Aided
First GILDING THE ARBOR, Bethanne Nemesh, Allentown, Pennsylvania
Second CROWN JEWELS, Lisa Calle, Pottstown, Pennsylvania
Third MAJESTIC SEDONA, Nancy Howell, Tempe, Arizona
Hon. Mention HEALING HEARTS, Pamela McIntyre, Gainesville, Florida
All of the winning quilts, as well as the semi-finalist works, will be on display at the Phoenix Convention Center for the remainder of the week. In addition, AQS QuiltWeek® will be hosting a number of other special exhibits, workshops with some of the top talent in the quilt industry, and an extensive merchant mall comprised of both local and national vendors.
Admission to AQS QuiltWeek® is $14 per day and tickets can be purchased at the door. Multi-day tickets are available. Hours are Wednesday, February 5 through Friday, February 7 from 9 a.m. to 6 p.m., and Saturday, February 8, from 9 a.m. to 5 p.m. Ticket and additional information can be found at aqsshows.com/phoenix or by calling 1-270-898-7903.
About the American Quilter's Society
The American Quilter's Society is the largest quilting membership organization in the world. For 30 years, AQS has been the leading voice in quilting inspiration and advice, through a broad suite of products—magazines, books, live events, contests, workshops, online networks, patterns, fabric, and catalogs. At AQS, we believe that with inspiration and advice, the creatively-minded individual can take their quilting projects beyond what even they had imagined. The leading authors in quilting choose to publish with AQS; the best in quilt artistry select AQS events to display their work; the newest quilters learn from the knowledge and inspiration of AQS members. For more information on the American Quilter's Society, please visit http://www.americanquilter.com or call 1-270-898-7903.