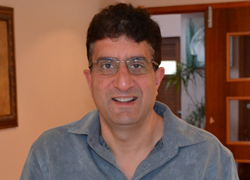 Patients with red, or puffy and sensitive gums, or gums which bleed during brushing should immediately consult their dentist for treatment and advice on improving their dental hygiene
(PRWEB) February 07, 2014
Tariq Drabu is the leading dentist and owner of the successful Langley Dental Practice in Middleton, Manchester. He is also the renowned Clinical Lead Dentist for the Oral Surgery Clinical Assessment and treatment Services for NHS Heywood Middleton and Rochdale.
Tariq Drabu has been a dentist for over twenty-five years and has consistently shown his dedication to high levels of patient care and excellence in dentistry. He was speaking recently about an article which gives detailed explanations about the causes and symptoms of Gingivitis. He said, "This is an excellent article. I hope as many people are able to read it as possible. It contains all the information about Gingivitis. I have no doubt that people who read it will benefit from the information, helping them to maintain their own oral hygiene and avoid this serious disease."
The article was published recently by the Medical News Today website, within its dental news section. The article can be read in full here.
Tariq Drabu, leading dentist, went on to say, "Gingivitis is the serious inflammation of the gums, or gingiva. It is most often caused by the build-up of bacteria and plaque on the teeth and gums. This build-up can normally be attributed to incorrect or infrequent brushing of the teeth and gums. Flossing and the use of mouth washes with regular brushing can help to prevent gum disease. Although Gingivitis is not a destructive disease, if it is untreated and allowed to develop, a patient could develop periodontal disease which results in tooth loss. In addition, research has shown that poor oral hygiene can increases a patient's risk of developing mouth cancer."
Tariq Drabu, a dedicated and respected dentist, went on to say, "Patients with red, or puffy and sensitive gums, or gums which bleed during brushing should immediately consult their dentist for treatment and advice on improving their dental hygiene. Over time the damage to gums that gingivitis causes, will heal. With regular brushing, flossing, and good oral hygiene practices, a patient will see a marked improvement in their gums within just a few weeks."
Tariq Drabu, the top dentist went on to say, "I am dedicated to doing all I can to give my patients the information they need to prevent the development of Gingivitis. The article on The Medical News Today website is excellent and provides all the details needed. I will be sharing the link to the article with my team in Langley, and my students, so they can learn from it, and pass it on to patients as required."
He closed by saying, "It is important that patients understand the causes of Gingivitis so they can take the necessary steps to protect themselves from infection. It is also vital they realise the symptoms so that they are able to quickly recognise them if they develop. In many cases, patients will not be aware they have gum disease until they visit their dentist. This is why, in additional to regular and effective oral hygiene practices. Patients must also make regular visits to their dentist for check-ups."
About Dr Tariq Drabu
Dr Tariq Drabu is a highly experienced and well known Manchester dentist and GDC registrant. He is accredited as a Specialist in Oral Surgery by the General Dental Council. Dr Tariq Drabu practices at his Langley Dental Practice in Manchester. Dr Drabu is a leading name in dentistry, with more than 25 years' experience in both general practice and hospital dentistry. Dr Tariq Drabu is also the Clinical Lead Dentist for the Oral Surgery Clinical Assessment and Treatment Services at NHS Heywood, Middleton and Rochdale. He is a specialist staff member at The UCLan Dental Clinic in Preston.