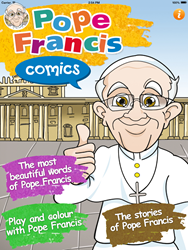 Pope Francis Comics, the first app for children dedicated to the words and stories of the Holy Father
(PRWEB) February 11, 2014
Now is available in the Apple Store "Pope Francis Comics", the first app that introduces children to the message of the Holy Father using stories and comic strips, games and learning activities. The app is both fun and educational, and for children of all ages: its aim is to help them grow and learn Christian values, using a hands-on approach by themselves or with their parents, so they can learn while having fun.
The app has three different parts:

'The most beautiful words of Pope Francis': Comics introduce the Pope's message in simple terms to children;
'Play and colour with Pope Francis': with an intuitive interface, children can colour the illustrations using a simple tool, and play with useful educational activities
'The stories of Pope Francis': older children can read the comics about Pope Francis and, in addition to the more unusual stories and anecdotes about the everyday life and works of the Holy Father, learn about the teachings and the Message of His Holiness, inspired by the Gospel. Then they will put them into practice into their daily lives, with their family, at school and with friends.
The app is inspired by the Italian magazine 'Pope Francis Comics', whose first number sold extremely well at Newsstands and enjoyed widespread appreciation from both the public and Italian and foreign press. Including 'Bild', 'The Telegraph', 'La Repubblica', 'Corriere', 'La Stampa' and 'Rai Tg2', prominent magazines and TV channels pointed out the editorial significance of the publication that intends to become an educational tool inspired by the positivity of the Holy Father's message, by using an original and intuitive form of communication like a comic book.
"Through this new digital publication", said Massimo Sesti, CEO of the Edizioni Master Group, "after the strong media response of 'Pope Francis Comics', our Group will be paying great attention to the world of children, who need important educational guidelines. We decided" – continued Sesti – "to introduce children to the message of the Pope, rich in values and a positive model par excellence, using a very direct form of communication like comics, with a nod to new technology, considering that children, perhaps helped by their parents, use iPads, smartphones and tablets daily. Pope Francis Comics" – continued the CEO of Edizioni Master – "was very successful internationally. Thanks to the digital APP it will be simple to reach the entire world".
The app, in English and Italian, is available now in several App Stores (USA, Canada, Great Britain, Australia, New Zealand and Italy, and was made for iPad by Master New Media, a company of the Edizioni Master Group