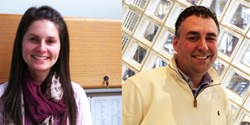 Akron, OH (PRWEB) February 06, 2014
Hasenstab Architects is pleased to announce the recent hire of Chad Costello, AIA, who joins the company as a Project Architect. Costello brings more than 14 years of architectural experience, with an emphasis on healthcare design, to the Hasenstab team.
Juliana Shtyrkalo has also joined Hasenstab Architects on a full-time basis. Shtyrkalo was previously interning with Hasenstab Architects while finishing her Master of Architecture degree, which she received from Kent State University in August 2013.
About Hasenstab Architects
Since 1982, Hasenstab Architects has provided professional design services for the healthcare, educational, science/technology, and commercial industries in Northeast Ohio. Past projects include Akron Zoo's Grizzly Ridge, The University of Akron's National Polymer Innovation Center, the National Inventor's Hall of Fame STEM School, and the Summa Health System's Jean B. and Milton N. Cooper Cancer Center. http://www.hasenstabinc.com