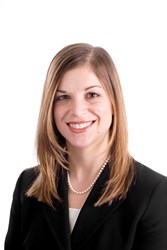 "We are extremely proud of Melissa for being named to the Florence Crittenton Board," said Attorney Ken Harrell, managing partner of the Joye Law Firm
Charleston, SC (PRWEB) February 11, 2014
Attorney Melissa Fried, a personal injury attorney at the Joye Law Firm, was recently elected to the 2014 Board of Directors for Florence Crittenton Programs of South Carolina.
The Florence Crittenton organization has been serving the state of South Carolina for over 116 years and is widely known for providing education, counseling, medical care, housing and social support to young pregnant and parenting mothers in need.
"We are extremely proud of Melissa for being named to the Florence Crittenton Board," explained Ken Harrell, managing partner of the Joye Law Firm. "I don't think they could have picked a more dedicated, passionate and responsible individual. Melissa will serve the organization well."
Fried earned her Bachelor of Arts in English and Government from Wofford College in Spartanburg, SC, where she graduated magna cum laude. She went on to earn her Juris Doctorate from the Charleston School of Law, where she served as the Senior Articles Editor of the Charleston Law Review, was the Chair of the Honor Council, and received the Michelle Robbins Memorial Award for excellence in public service and academics. Prior to joining Joye Law Firm's Personal Injury Department, Fried was a judicial law clerk for the Honorable Daniel F. Pieper of the South Carolina Court of Appeals. She has also served as an adjunct professor at Charleston School of Law.
"I am extremely excited to have Melissa Fried join the Board of Directors for Florence Crittenton," said Philippa Ward, President of the Board of Directors of the organization. "Her knowledge and guidance have proved invaluable to our committees over the last year and I know that she will only continue to be of great service as she transitions to a member of the Board of Directors."
Attorney Fried was a natural pick for the Crittenton board because of her dedication to public service, influential position in the local community and organizational skills and abilities.
Fried's first project as a Board of Directors member will be the annual Oyster Roast & Chili Cook-off scheduled for Sunday, February 23rd from 2-5pm at Goldbug Island in Mt. Pleasant, SC. As a show of support to Melissa and the Florence Crittenton organization, Joye Law Firm's "Joye in the Community" program will be one of the event's headlining sponsors.
For more information about Joye Law Firm's involvement in the community, visit http://www.JoyeInTheCommunity.com for the latest sponsorship news and event calendars.
###
Leading by Example
To recognize the importance of giving back to the community, Joye Law Firm established Joye in the Community—a year‐round program that encompasses the firm's community and service efforts. The initiative is designed to enrich the lives of everyone involved in the program and raise awareness about the needs of those in the Clinton, Charleston and Myrtle Beach areas. Visit http://www.joyeinthecommunity.com to learn more.
About Joye Law Firm
Based in North Charleston, S.C., Joye Law Firm has been providing legal services to the people of South Carolina since 1968. The firm of accomplished South Carolina injury and disability attorneys offers more than 130 years of combined litigation experience.