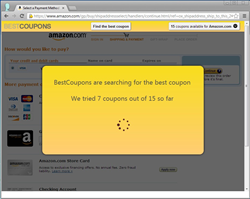 There are features which have a great potential of further increasing the revenues you get from your users.
Alexandria, VA (PRWEB) February 06, 2014
Browser tool bar and add-on developers BestToolBars has shed new light on the science of being successful as a cashback company by lifting the lid on the top 3 features cashback browser plug ins need to be successful.
In a brand new report published on its website today, the BestToolBars team reveals the often underused and underestimated features which are proven to significantly increase the revenues earned from users.
The first of the extra features often overlooked but with the power to create an influx of extra funds is price comparison. BestToolBars classes it as a powerful addition to add extra functionality, helping the user to find better deals and the same products being searched for at lower costs. A price comparison function is also noted as being useful for encouraging hesitant users to take the necessary step to make a purchase and is useful at the time of purchase, helping to steer the user towards a company affiliated to the cashback browser plug in provider.
The second item on the top three features list is automated coupon application. This removes the burden placed on the consumer which requires them to browse through all available coupons for the site they are viewing and then independently select the best offer. By adding a coupons autoapplying feature to the browser plugin, the add-on will automatically find the best coupon for the shopper and will specify the saving made with nothing more than a single click required.
A detect affiliate link highjacking feature rounds out the top three list. This is essential for cashback companies wanting to protect their own commissions. BestToolBars research indicates that as more and more cashback companies launch, shoppers will often run two or three different addons at the same time which may conflict with the primary add-on and replace affiliate links with their own. To safeguard commissions and revenue, the BestToolBars solution will detect affiliate link highjacking and warn the user about it.
Valery Kuznetsov, Key Projects Manager at Besttoolbars said, "While there are certain must-have features that every cashback browser plugin should have to keep users engaged and make sure they always use your affiliate links when shopping online, there are also features which are often underestimated, but have a great potential of further increasing the revenues you get from your users. In this article we will tell you about some of such extra features that you should strongly consider adding to your cashback browser plugin."
To find out more about Besttoolbars and to read the report in full visit http://besttoolbars.net/articles/top_3_extras_for_cashback_plugins/.
About Besttoolbars: Besttoolbars is a company well known for creating browser toolbars and add-ons. It has worked with an array of global brands, from start-ups to high-profile Fortune 500 corporations including Amazon, Skype, IBM, DHL, TNT and Intel. More than 7000 companies currently use solutions created on the Besttoolbars platform. Its product line includes:
Toolbar Studio: IDE for designing toolbars for Internet Explorer and Firefox
Add-ons Framework: Framework for building add-ons for Internet Explorer, Firefox, Chrome, Safari, and Opera
Besttoolbars also offers a number of services to help businesses integrate their products with desktops and mobile phones. It provides custom browser development, add-ons, add-ins and mobile app development.