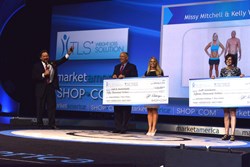 Miami, FL (PRWEB) February 06, 2014
Two dozen people took home their share of $100,000 as the winners of TLS Weight Loss Solution's fourth TLS Find Your Fit Challenge, the results of which were announced earlier today.
TLS Weight Loss Solution – a division of Greensboro-based internet retailer Market America | SHOP.COM – presented Scott Maimone of Manlius, New York, a check for $15,000 as the 2013 Fall Challenge Individual winner, while Missi Mitchell of Maitland, Florida, and Kelly Whited of Orlando, Florida, were awarded $50,000 for winning the team challenge.*
Maimone lost more than 64 pounds over the 12-week challenge, and credits the TLS Weight Loss Solution program for improving his health.
"As soon as people ask me how I lost weight, I talk about TLS," said of his transformation. "I believe anyone that has the drive, the support of the people around you, and a concrete plan, anyone can succeed like I did."
Added Mitchell: "I am a single mom, and instead of making the excuse that I don't have time to work out or prepare healthy food, I learned to plan it into each and every day. TLS has taught me a perfect balance and changed my whole life."
The 12-week TLS Find Your Fit 2013 Fall Challenge began in August. Unlike previous TLS Weight Loss Solution challenges, the winners were selected by the general public in an online vote held on the company's website, tlsSlim.com.
"We were very pleased with the response from the public," said Dennis Franks, Executive Vice President of Market America | SHOP.COM. "They didn't have an easy choice, either, as all of the finalists had impressive results thanks to the TLS Weight Loss Solution system."
Since the inaugural TLS Find Your Fit Challenge in the spring of 2012, more than 8,000 people have participated and lost more than 35,000 pounds. Over that time, TLS has awarded more than $200,000 to those who have shown exceptional results.
For a complete list of winners, visit tlsSlim.com.
*Some of the winner's sharing their story may be Independent Distributors of Market America products.
ABOUT TLS® WEIGHT LOSS SOLUTION
Introduced in 2004, TLS Weight Loss Solution is a weight loss program that emphasizes a low-glycemic approach to eating, which helps keep your blood sugar levels where they need to be. Following the TLS system will also help you understand your behaviors and what triggers your hunger pangs, helping you overcome your weight loss obstacles. TLS also focuses on your body composition instead of the scale, getting you fitter and healthier in addition to shedding pounds. In addition, TLS offers science-based weight loss accelerators, an interactive website (http://www.tlsSlim.com), an extensive Health Guide & Journal, and more.
ABOUT MARKET AMERICA, INC. & SHOP.COM
Market America, Inc. is a product brokerage and Internet marketing company that specializes in One-to-One Marketing. Its mission is to provide a robust business system for entrepreneurs, while providing consumers a better way to shop. Headquartered in Greensboro, NC, the company was founded in 1992 by President and CEO JR Ridinger and has generated over $5.3 billion in accumulated sales. Market America employs nearly 700 people globally with operations in the United States, Canada, Taiwan, Hong Kong, Australia, United Kingdom and Mexico. Through the company's shopping website, SHOP.COM, consumers have access to over 40 million products, including Market America exclusive brands and thousands of top retail brands. By combining Market America's entrepreneurial business model with SHOP.COM's powerful comparative shopping engine, Cashback program, Hot Deals, ShopBuddy™, social shopping integration and countless other features, the company has become the ultimate online shopping destination.
For more information:
United States: http://www.marketamerica.com or http://www.SHOP.COM