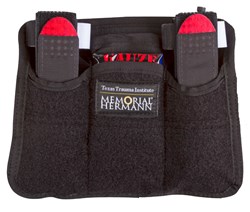 "Providing our officers, who are essential members of our City's first responder team, with immediate access to tourniquets and combat gauze helps set a new precedent for prehospital standard of care." -Dr. Holcomb, Memorial Hermann Texas Trauma Institute
HOUSTON (PRWEB) February 06, 2014
Memorial Hermann Texas Trauma Institute announced today the donation of 5,000 Individual First Aid Kits (IFAKs) to the Houston Police Department (HPD). This significant donation provides all uniformed HPD officers with immediate access to proven, life-saving tools.
Unlike a traditional first-aid kit, each IFAK is equipped with combat gauze that is similar to what is used in Emergency Center's across the country and two tourniquets which have proven to be life-saving in combat. Also, unlike any other trauma kit available, the IFAKs donated to HPD are customized to attach to an officer's bullet proof vest, under the officer's shirt for immediate access.
"With this generous donation, Houston will soon be able to supply all police officers with tourniquets and hemostatic dressings, making the access to these important tools easier and faster than ever before," said Houston Police Chief Charles McClelland. "By the end of next year, every officer in the department will have been trained and assigned an Individual First Aid Kit. I have no doubt that having tourniquets readily available will help us save more lives, whether it's the life of a civilian or the officer's own."
Houston City Council Member Ed Gonzalez agrees that this donation is truly life-saving for all citizens of Houston.
"Because of our city's vibrant economy and celebrated cultural diversity, Houston continues to be one of the country's fastest-growing areas. In order to best care for that growing population, we must stay ahead of the curve when it comes to the safety, health and well-being of our citizens. And, we can do that by constantly reevaluating how that care can be delivered faster and more efficiently, with the highest quality treatments yielding the best results," said Council Member Gonzalez. "There is no doubt that the access to these important tools will make an immediate difference."
According to a 2008 study published in the Journal of TRAUMA Injury, Infection, and Critical Care, co-authored by (Ret) Col. John B. Holcomb, M.D., director of the Memorial Hermann Texas Trauma Institute and Professor and Vice Chair of the Department of Surgery at UTHealth, the immediate and proper use of prehospital tourniquets on the Iraqi battlefield increased a patient's survival rate by greater than 90 percent.
"Learning from recent mass casualty events in our own country, as well as what we've learned from treating our soldiers on the battlefield, we know that the primary cause of preventable death is blood loss and the best way to prevent blood loss is to properly apply a tourniquet," said Dr. Holcomb. "Providing our officers, who are essential members of our City's first responder team, with immediate access to tourniquets and combat gauze helps set a new precedent for pre-hospital standard of care."
To ensure that the tourniquets and the other tools provided in the IFAK are used effectively, appropriate education is required. Led by HPD Executive Assistant Chief Kirk Munden, more than 1,000 IFAKs have already been distributed and more than 200 officers a month are undergoing intensive training, prior to receiving their IFAK. By this September, all patrol officers should have the critical life-saving training and equipment.
"The goal is to educate, train and equip every officer with an IFAK by the end of 2015," said Executive Assistant Chief Munden.