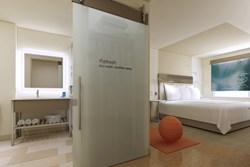 Through relationships such as the one with Athletic-Minded Traveler, we were able to create a brand that provides travelers the tools and resources they need to live healthier and happier everywhere. -- Adam Glickman, head of EVEN Hotels
San Diego, CA (PRWEB) February 06, 2014
Athletic-Minded Traveler LLC (AMT), a San Diego-based active lifestyle publishing and consulting company, announced today its ongoing consulting arrangement with EVEN™ Hotels, InterContinental Hotels Group's (IHG) newest hotel brand within the U.S., which meets a new and growing customer demand in the U.S. for healthier travel. Since joining the EVEN Hotels team in a consulting capacity January 2012, AMT has provided recommendations and guidance on hotel fitness-related concepts, strategy and content. Furthermore, AMT played an integral role in bringing the brand from concept to reality.
"IHG has a broad portfolio of nine brands with a rich and powerful heritage that are known and loved by millions around the world," said Adam Glickman, head of EVEN™ Hotels. "In creating the EVEN Hotels brand, we leveraged not only our internal expertise and insights from guests, but we also brought together a number of wellness leaders who are experts in their fields. Through relationships such as the one with AMT, we were able to create a brand that provides travelers the tools and resources they need to live healthier and happier everywhere. As we continue to grow the brand, the experts and organizations we've aligned with – including AMT – will help deliver our brand promise of enabling wellness in travel by working with us to stay informed on the latest trends and science behind staying well on the road."
"We continue to take great pride in helping EVEN Hotels create a revolutionary hotel brand focused on guest wellness with diverse touchpoints including an on-site Athletic Studio, an In-Room Training Zone, meeting space convertible for group exercise (aka "Flex-room"), smartphone-enabled jog-walk maps, healthy food offerings, and more," said Jim Kaese, Editor-in-Chief and Co-Founder of Athletic-Minded Traveler LLC. "The EVEN brand's significant internal and external research demonstrated what AMT's work has shown over the past ten years: Many travelers crave first-rate, healthy lifestyle options in all aspects of their stay. That starting point perfectly aligned our two companies since AMT has been leading the charge toward healthier travel—through best-selling books, a web portal, research, articles, custom resources, social media, and expert content."
In addition to his role in helping develop the brand concept, Kaese sits on the EVEN Hotels Wellness Advisory Board – The WELL. The formation of The WELL is another example of the ways the EVEN Hotels brand is aligning with wellness experts from various fields in order to stay informed on the latest trends and science behind staying well on the road. As a member of The WELL, Kaese contributes content to wellwellwell.com, an online destination and resource for wellness-minded travelers, fueled by EVEN Hotels, which provides localized and insightful content designed to help travelers maintain their routine while away from home.
"Very early in our relationship, it became clear that the EVEN Hotels team was serious about solving long-standing challenges facing travelers seeking healthier and more balanced experiences while away from home. The EVEN Hotels team approached us with the desire to create a brand recognized for offering travelers the best hotel fitness and wellness opportunities. Their team asked how AMT could help accomplish this goal in a creative and unique manner," continued Kaese. "Through the years, we have visited thousands of hotel gyms stocked with 7-year old machines, broken equipment, and basement-like ambiances," says Kaese. "The EVEN brand's Athletic Studios will be 3-4x larger than a typical hotel gym, stocked with 2-3x more equipment (chosen after intensive and objective research/testing by AMT, in connection with the EVEN Hotels brand team), and designed with appealing décor. Also, the EVEN brand's on-site fitness facilities will be specifically and accurately described so guests know that a "best-in-class" experience awaits."
Through its relationship with EVEN Hotels, Athletic-Minded Traveler develops innovative hotel wellness solution concepts, fitness strategies, facility designs and decor, product/equipment recommendations, healthy food and beverage guidance, content creation/editing, staff training modules and more.
About Athletic-Minded Traveler LLC
Athletic-Minded Traveler LLC is an active lifestyle media, publishing, and consulting company. The San Diego-based business serves its clients and generates content via a staff of experts. Proprietary resources include a healthy-travel web portal, custom jog-walk maps with smartphone functionality, corporate wellness content licensing, and fitness/wellness consulting. Inquiries are happily addressed at (619) 491-0132 and online at AthleticMindedTraveler.com or twitter.com/healthytravel.
About EVEN™ Hotels
EVEN™ Hotels, IHG's newest brand in the U.S., meets the large and growing demand for a hotel brand to help wellness-minded travelers keep their balance on the road. An industry first, EVEN Hotels invites wellness on every journey by providing solutions for all aspects of travelers' wellness needs. With an emphasis on four components, Eating Well, Resting Easy, Keeping Active and Accomplishing More, the brand serves as a travel partner, helping guests feel better about their experience and themselves based on the choices they are able to make. Globally, no other brand does this under one roof, at a mainstream price point.
The brand launched in 2012 and is expected to be a key pillar in the IHG portfolio of preferred brands and in the long term, a key driver in market share growth in the U.S. EVEN Hotels expects to open its first properties in spring 2014 and continue strategic development efforts in key markets including the Tri-state area, the Washington, D.C. area, San Francisco, Chicago, Denver, Portland, Seattle and Los Angeles.
For more information, visit evenhotels.com. Find EVEN Hotels on Twitter twitter.com/EvenHotels or Facebook facebook.com/EvenHotels.