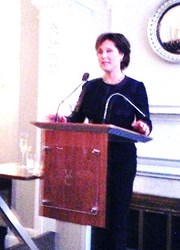 Vancouver (PRWEB) February 06, 2014
The BC Women's Economic Business Advisory Council (WeBAC), a nonpartisan group advocating for public policy on behalf of women in business in British Columbia, applauds the announcement yesterday by Premier Christy Clark of the establishment of the Premier's Women's Economic Council (PWEC), an all-woman council to advise the B.C. government on how to advance business opportunities for women in B.C.
This first council is represented by 11 women from a diverse group of industries and experiences. http://www.newsroom.gov.bc.ca/2014/02/premiers-womens-economic-council-established-to-tap-into-new-opportunities.html
"We are pleased to see that Premier Clark is seeking input and advice from business women from key industries around the province," said Carolyn Cross, Chair of WeBAC. "Including the voice and perspective of women leads to better economic outcomes, and supporting women in business leads to growth in the number and quality of jobs. With women now representing about 47% of the workforce, 36% of small businesses and 60% of university graduates, the voices of working women is an important element in the political equation."
WeBAC offers governments reliable and independently sourced information from women business owners & professionals. Learn more at http://www.bcwomenadvisory.org/.