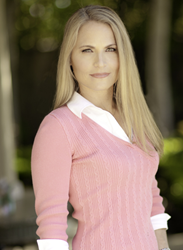 Kimberley Blaine is a true pioneer in digital programming. I am proud to have her on our team. - Steve Gatena, CEO of REP Interactive
Los Angeles, CA (PRWEB) February 06, 2014
REP Interactive announces their latest Executive Producer Kimberley Blaine the "Go-To Mom". In 2013 video production company REP Interactive won dozens of awards for online video, branded entertainment, and broadcast media production. As REP Interactive moves into the entertainment markets, they've selected Kimberley Blaine as their latest Executive Producer.
"Kimberley Blaine is a true pioneer in digital programming. I am proud to have her on our team. She is very hardworking and I've always admired her willingness to help and coach others. She is an innovative leader in the media space and a true asset to REP Interactive. As we continue to push our brand and our clients into the future, Kimberley will help lead the way," states Steve Gatena, CEO of Los Angeles-based video and broadcast media company, REP Interactive.
Kimberley founded the "Go-To Mom TV" and has created a plethora of original video content for popular destination sites, government campaigns, and family-friendly brands. She is an author of multiple books and has spent the last 7 years creating online programming for women and parents. Kimberley's creative vision has driven content initiatives for brands like Sony Electronics, DreamWorks, Disney, Lego Systems, Microsoft Bing, DelMonte, 3M/Post It Notes, Yahoo! and Schick.
As a founding partner of MomPulse, one of the fastest growing YouTube networks for moms, we can say that we are thrilled to hit the pavement with her vision and insight. As an Executive Producer, Kimberley will help REP Interactive's clients develop branded entertainment as well as work on REP's latest broadcast entertainment initiatives including Television Series Development and potential Feature Films.
"I've already learned so much from Kimberley. At REP Interactive we have an excellent culture full of amazing people. From former Army Rangers to Tri-lingual Russian filmmakers we are a very diverse and talented bunch. Kimberley gives REP Interactive that added element of in-depth entertainment experience and content excellence from an online perspective. We interviewed a number of Executive Producer candidates who were all very qualified and we decided that Kimberley was an outstanding fit for our brand and where the business is going over the next five years," states Chris Carter, Executive Vice President of Los Angeles-based video and broadcast media company, REP Interactive.
Fortune 500 Companies trust REP Interactive to create media solutions that increase revenue, decrease expenses, and achieve communication goals. At REP Interactive we empower businesses and inspire people through video & broadcast media.
About REP Interactive
REP Interactive (http://www.repinteractive.com) is an award winning video and broadcast media agency. REP empowers businesses with video and broadcast media solutions that increase revenue, decrease expenses and achieve communication goals. Since 2011, clients like Coldwell Banker, Marriott Hotels, and GE Healthcare have relied on REP Interactive for their ability to create innovative solutions to corporate communication problems.
Please contact Chris Carter, REP Interactive for inquiries: Chris(at)repinteractive(dot)com or call 888-789-1299.