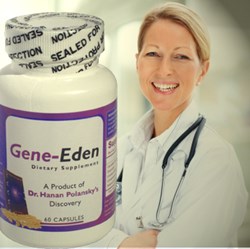 Licorice is an ingredient of Gene-Eden-VIR. We therefore recommend that those infected with the hepatitis C virus talk to their doctor about Gene-Eden-VIR. - Mike Evans, polyDNA
Rochester, NY (PRWEB) February 12, 2014
A study found that many compounds found in licorice target the hepatitis C virus. Licorice root comes from the licorice plant (1). Its active, antiviral ingredient is called "glycyrrhizin." The natural, antiviral supplement, Gene-Eden-VIR, contains licorice. Gene-Eden-VIR was proven to reduce HCV symptoms in a post-marketing clinical study that followed FDA guidelines.
The results of the study revealed that "a methanol extract of G. uralensis roots (Chinese licorice) and its chloroform fraction possessed anti-HCV activities …Through bioactivity-guided purification and structural analysis, we isolated and identified glycycoumarin, glycyrin, glycyrol and liquiritigenin as anti-HCV compounds (1)." Additionally, "We also found that licochalcone A and glabridin, known as the exclusive constituents of G. inflata and G. glabra, (other licorice ingredients) respectively, possessed anti-HCV activities… another chalcone, isoliquiritigenin (more licorice ingredients), also showed anti-HCV activity (1)."
Another study noted that licorice has been known to act against HCV for thousands of years. "Historical sources for the use of Glycyrrhiza species (the active ingredient in licorice) include ancient manuscripts from China, India and Greece. They all mention its use for symptoms of viral respiratory tract infections and hepatitis." (See the journal Phytotherapy Research, from September 20, 2007) (2).
"Hepatitis C is a liver disease that results from infection with the hepatitis C virus. It can range in severity from a mild illness lasting a few weeks to a serious, lifelong illness. Hepatitis C is usually spread when blood from a person infected with the hepatitis C virus enters the body of someone who is not infected… Hepatitis C can be either 'acute' or 'chronic.' Acute hepatitis C virus infection is a short-term illness that occurs within the first 6 months after someone is exposed to the hepatitis C virus. For most people, acute infection leads to chronic infection. Chronic hepatitis C is a serious disease than can result in long-term health problems, or even death." (See the CDC's webpage on hepatitis C, last updated May 6, 2013) (3).
"Licorice is an ingredient of Gene-Eden-VIR. We therefore recommend that those infected with the hepatitis C virus talk to their doctor about Gene-Eden-VIR. This natural product was proven to reduce HCV symptoms in a post-marketing clinical study that followed FDA guidelines." – Mike Evans, polyDNA
A recent post marketing clinical study published in the peer reviewed, medical journal Pharmacology & Pharmacy, in a special edition on Advances in Antiviral Drugs on August 12, 2013 showed that Gene-Eden-VIR is safe and effective (4).
Each ingredient of Gene-Eden-VIR was chosen through a scientific approach. Scientists scanned thousands of scientific and medical papers published in various medical and scientific journals around the world to identify the safest, most effective natural ingredients that target the latent form of hepatitis C (4).
To learn more about Gene-Eden-VIR and Hepatitis C, visit http://gene-eden-kill-virus.com/HCV.php. All orders of Gene-Eden-VIR are completely confidential, and no information is shared or sold to any third party. Privacy is assured.
Reference:
(1) Anti-hepatitis C virus compounds obtained from Glycyrrhiza uralensis and other Glycyrrhiza species. Published on January 7, 2014.
http://www.ncbi.nlm.nih.gov/pubmed/24397541
(2) Antiviral effects of Glycyrrhiza species. Published in February 2008.
http://www.ncbi.nlm.nih.gov/pubmed/17886224
(3) CDC - Hepatitis C Information for the Public. Last updated on May 6, 2013.
http://www.cdc.gov/hepatitis/c/
(4) Gene-Eden-VIR Is Antiviral: Results of a Post Marketing Clinical Study. Published on August 12, 2013.
http://www.scirp.org/journal/PaperInformation.aspx?PaperID=36101
polyDNA is a biotechnology company that develops dietary supplements using the unique scientific method developed by Dr. Hanan Polansky, which is based on Computer Intuition.
In addition to his unique scientific method, Dr. Polansky published the highly acclaimed scientific discovery, called Microcompetition with Foreign DNA. The discovery explains how foreign DNA fragments, and specifically, DNA of latent viruses, cause most major diseases.
polyDNA developed Gene-Eden-VIR, an antiviral natural remedy that helps the immune system kill latent viruses.