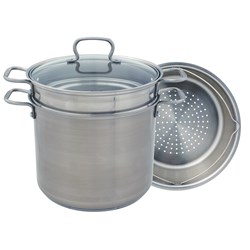 Lima, Ohio (PRWEB) February 14, 2014
Unique specialty cookware pieces served a la carte to compliment any cookware set are constructed of a durable Stainless Steel with a brushed exterior finish. Designed with an impact bonded, aluminum disk encapsulated base which distributes heat quickly and evenly to allow precise temperature control. Handles are riveted for durability and performance. The New Specialty Cookware is compatible for all range types including induction. In addition to the multi use function, another unique feature is bottom to top interior volume markings in both quarts and metric measurement; and each piece comes with a tempered glass lid, oven safe to 350°F.
Specialty Cookware pieces include: 4 piece Multi Sauce pan (3 quart Sauce Pan with tempered glass lid, Steamer Insert and Double Broiler Insert), 3 piece Mega Pan (7 quart/ 12 inch Mega Pan with tempered glass lid and Steamer Insert), 4 piece Multi Cooker (12 quart Multi Cooker with tempered glass lid, Steamer Insert, and Pasta Insert), 16 quart Stock Pot with tempered glass lid, and a 20 quart Stock Pot with tempered glass lid. All pieces come backed with a Limited Lifetime Household Warranty.
For more information regarding Specialty Stainless Steel Cookware, please go to http://www.rangekleen.com.
About Range Kleen Mfg., Inc.
Range Kleen Manufacturing, Inc. is a Lima, OH based company manufacturing household products sold to major retail chains globally and has been taking care of the customer (TCOTC) since 1971. Its product Divisions include: Original Equipment Manufacturing Quality (OEM) replacement drip pans for ranges & stoves; Non-stick Metal Bake ware; Kitchen Decorative products specializing in exclusive licensed designs; Storage, Organization, insulated food and beverage bottles and household cleaning supplies. Range Kleen Introduced their own line of cookware- Stainless Steel and Enameled Cast Iron as well as pot racks in 2007. Effective December 21, 2009, Range Kleen Manufacturing was pleased to announce the partnership with Berndes Cookware USA and has taken the lead of all sales, marketing and shipping of Berndes Cookware USA from their International Headquarters in Lima, Ohio.