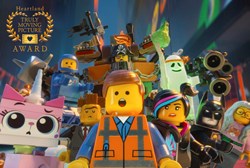 Combining a unique premise with humor and an engaging cast of characters, the film presents a great message for its viewers.
Indianapolis, IN (PRWEB) February 06, 2014
"The LEGO Movie," from Warner Bros. Pictures, Village Roadshow Pictures and LEGO System A/S, has been recognized with the Truly Moving Picture Award by nonprofit arts organization Heartland Truly Moving Pictures.
"The Truly Moving Picture Award jury has recognized 'The LEGO Movie' for its ability to inspire moviegoers of all ages," said Tim Irwin, Heartland's artistic director. "Combining a unique premise with humor and an engaging cast of characters, the film presents a great message for its viewers."
The first full-length theatrical LEGO adventure, "The LEGO Movie" opens in theaters on February 7, 2014 and stars Chris Pratt, Will Ferrell, Elizabeth Banks, Will Arnett, Nick Offerman, Alison Brie and Charlie Day, with Liam Neeson and Morgan Freeman. Its original 3D computer animated story follows Emmet, an ordinary, rules-following, perfectly average LEGO minifigure who is mistakenly identified as the most extraordinary person and the key to saving the world. He is drafted into a fellowship of strangers on an epic quest to stop an evil tyrant, a journey for which Emmet is hopelessly and hilariously underprepared.
"The LEGO Movie" was directed by Phil Lord & Christopher Miller, who also also wrote the screenplay, from a story by Dan Hageman & Kevin Hageman and Phil Lord & Christopher Miller, based on LEGO construction toys. It was produced by Dan Lin and Roy Lee, with executive producers Jill Wilfert, Matthew Ashton, Kathleen Fleming, Allison Abbate, Zareh Nalbandian, Jon Burton, Benjamin Melniker, Michael E. Uslan, Seanne Winslow, Matt Skiena and Bruce Berman; and co-producer John Powers Middleton. The filmmaking team includes cinematographer Pablo Plaisted, production designer Grant Freckelton, editors David Burrows and Chris McKay, and composer Mark Mothersbaugh. Chris McKay also served as animation co-director. Learn more at TheLEGOMovie.com.
Rated PG-13 for mild action and rude humor.
LEGO, the LEGO logo, the minifigure and the brick and knob configuration are trademarks of The LEGO Group. ©2014 The LEGO Group. Used with permission. All rights reserved.
About Heartland Truly Moving Pictures
Heartland Truly Moving Pictures, a nonprofit arts organization, seeks to inspire filmmakers and audiences through the transformative power of film. Its flagship event, the Heartland Film Festival®, launched in 1991 and runs each October in Indianapolis, screening independent films from around the world. Each year, the Festival awards more than $115,000 in cash prizes and presents its Festival Awards to the top-judged submissions. Heartland has awarded more than $2.6 million to support filmmakers during the last 23 years. The organization's Truly Moving Picture Award was created to honor films released theatrically that align with Heartland's mission. By bestowing this award seal to honored films, the award allows studios and distributors to inform audiences of a film's transformative power and appeal. Heartland is also dedicated to cultivating youth, and thus created the Heartland Institute to provide innovative educational and outreach programs that enrich the minds and lives of youth and aspiring filmmakers. Heartland also shares inspiring films year-round in the community through the Heartland Roadshow. For more information, visit TrulyMovingPictures.org.