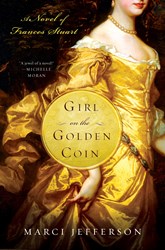 Marci brings it all together – she tells a great story, bringing to life one of history's most important families, and allows her readers to immerse themselves in a thrilling drama and never before told tale.
Gloucester, VA (PRWEB) February 07, 2014
The Royal Stuarts. A famed seventeenth century mistress and the story of how she rejected three kings yet remained the face of England's coins for decades.
That's the story that will unravel during the Inn at Warner Hall's premier event in its 2014 Dinner and Discussion series.
Warner Hall is pleased to announce that it will host Marci Jefferson, historical novelist and author of the newly released Girl on the Golden Coin, Wednesday, April 2 at 5:30 p.m. for a discussion, book signing and gourmet buffet dinner.
"When absolute Monarchs ruled from glittering seventeenth century courts, Frances Stuart captured the hearts of Louis the Fourteenth, Charles the Second and James the Second," Jefferson wrote about her debut novel. "She rejected them all and graced England's coins for generations as the model of Britannia, an enduring symbol of Britain's independent spirit."
Jefferson's take on Frances Stuart has been billed as "what Phillippa Gregory did for the Tudors, Jefferson will do for the Stuarts."
Theresa Stavens, Innkeeper and Owner of the Inn at Warner Hall, is delighted to host Jefferson for the premier event of the 2014 Dinner and Discussions.
"Marci brings it all together – she tells a great story, bringing to life one of history's most important families, and allows her readers to immerse themselves in a thrilling drama and never before told tale," Stavens said. "The opportunity to keep learning and history alive is what we, and these events, are all about."
Jefferson promised to also help connect the Warner and Lewis ancestral families to Frances Stuart by exploring the Royal Stuart family's relationship to Augustine Warner, George Washington's great-great grandfather who established Warner Hall in 1642.
The Dinner and Discussion events are $55 per person and include dinner, complimentary wine and the featured speaker.
Seating is limited. Advanced reservations are required. Contact Warner Hall to reserve a seat at 800.331.2720 or info(at)warnerhall(dot)com.
This event is open to the community and non-lodging guests.
The Inn's 11 rooms are available the evening of this event. Guests should inquire about room availability when RSVPing for the Dinner and Discussion or by visiting http://www.warnerhall.com and navigating to "CHECK AVAILABILITY" in the main menu.
ABOUT MARCI JEFFERSON:
Marci Jefferson grew up in an Air Force family and lived numerous places, including North Carolina, Georgia, and the Philippines. Her passion for history sparked while living in Yorktown, Va., where locals still share Revolutionary War tales. She lives in Indiana with her husband and children, but has family in Gloucester, Va. and has stayed multiple times as a guest at the Inn at Warner Hall. Girl on a Golden Coin is her first novel.
ABOUT GIRL ON A GOLDEN COIN, published by a division of St. Martin's Press:
In 1660, the Restoration of Stuart Monarchy in England returns Frances Stuart and her family to favor. Frances discards threadbare gowns and goes to gilded Fontainebleau Palace, where she soon catches the Sun King's eye. But Frances is no ordinary court beauty—she has Stuart secrets to keep and her family to protect. King Louis XIV turns vengeful when she rejects his offer to become his Official Mistress.
He sends her to England with orders to seduce King Charles II and help him form an alliance with England. The Queen Mother likewise orders Frances to become her son's mistress, in the interest of luring him away from the Protestant mistress he currently keeps.
Armed in pearls and silk, Frances maneuvers the political turbulence of Whitehall Palace, but still can't afford to stir a scandal, determined to keep her family from shame. Her tactic to inspire King Charles to greatness captivates him and the two embark on a tenuous relationship. Frances survives the Great Fire, the Great Plague, and the debauchery of the Restoration Court, yet loses her heart to the very king she must control. A startling discovery will leave her with no other choice but to break his heart, while the fate of England hangs in the balance.
In the tradition of Philippa Gregory, debut author Marci Jefferson brings to life a captivating woman whose beauty, compassion, and intellect impacted a king and a nation, in Girl on the Golden Coin.
ABOUT THE INN AT WARNER HALL:
Ideally situated at the head of the Severn River in Gloucester County, the manor house at Warner Hall stands on a neck of land occupied and built upon continually from the mid-17th century. The original six hundred-acre plantation site was established by Augustine Warner as a "land grant" from the British Crown. Augustine Warner received the acreage in exchange for bringing twelve settlers across the Atlantic Ocean to the Jamestown Settlement.
The two families associated with the property from this early period until well into the 19th century, the Warners and the Lewises, were among the most prominent families in Colonial Virginia. Some of the most recognized names in American history are direct descendants of Augustine Warner – George Washington, the first president of the United States, Robert E. Lee, the most famous Civil War General and Captain Meriwether Lewis, renowned American explorer of the Lewis & Clark expedition.
Queen Elizabeth II, the current monarch of England, is a direct descendent of Augustine Warner through the Bowes-Lyon family and the Earl of Strathmore. In England, Warner Hall is referred to as "The home of the Queen's American ancestors."
For Theresa and Troy Stavens, the current stewards of Warner Hall and the Inn's owners, Warner Hall is a dream come true. Their passion for hospitality and historic preservation led them to Warner Hall where they saw the perfect opportunity to use their financial management and marketing skills to preserve an historical property and pursue their real passion – making people happy.