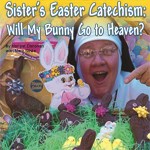 Holy Moly! Nun brings crowd to tears in five minutes! -Detroit Examiner
Worcester, MA (PRWEB) February 07, 2014
Coming to The Hanover Theatre for the Performing Arts on Sunday, March 16 at 2PM, SISTER'S EASTER CATECHISM: WILL MY BUNNY GO TO HEAVEN? is making its way to Worcester, MA. Tickets are currently on sale to members of The Hanover Theatre before going on sale to the public on Tuesday, February 11 at 10AM.
Celebrate the Easter season with Sister as she answers the time worn questions of the season like "Why isn't Easter the same day every year like Christmas?" and "Will My Bunny Go To Heaven?" Part pageant, and wHOLY hysterical, this latest of the sinfully funny Late Nite Catechism series unearths the origins of Easter bunnies, Easter eggs, Easter bonnets, Easter baskets, and of course those yummy Easter Peeps. Sister answers questions about pet heaven and the significance of those adorable baby chicks. Classroom participation is a must, so don't forget to wear your Easter bonnet and join Sister for this seasonal treat.
Tickets to SISTER'S EASTER CATECHISM: WILL MY BUNNY GO TO HEAVEN? are $29 and $39*, with a 10% discount available for members of The Hanover Theatre, groups of 10 or more, corporate partners, kids, students and WOO Card holders. Tickets are available online at TheHanoverTheatre.org, by phone at 877.571.SHOW (7469), or at The Hanover Theatre box office located at 2 Southbridge Street in downtown Worcester.
About The Hanover Theatre
The Hanover Theatre continues to draw over 170,000 patrons annually with world-class performances and headlining acts including Broadway hits (Les Misérables, Mary Poppins, Jersey Boys); comedians (Steve Martin, George Carlin, Bill Cosby); musical acts (Neil Young, Aretha Franklin, The Moody Blues, Diana Ross); and everything in between (A Christmas Carol, Maya Angelou, Rudy Giuliani, Alvin Ailey American Dance Theatre). Ranked by POLLSTAR as one of the Top 50 Theatres in the World, the theatre opened in March of 2008 following a $32 million historic renovation. Over the last six seasons, the theatre has established its place as a world-class performing arts venue, acting as a catalyst for the economic development of downtown Worcester. For more information, visit TheHanoverTheatre.org. Worcester Center for the Performing Arts, a registered not-for-profit 501(c)(3) organization, owns and operates The Hanover Theatre for the Performing Arts. All donations are tax deductible to the fullest extent allowed by law.
About Entertainment Events, Inc.
Based in New York City, EEI has made its mark on the theatrical touring industry by offering a variety of new and exciting plays and musicals to an ever growing list of professional presenting organizations throughout the country. In addition EEI has performed over 1500 fundraising events for schools, church groups, and private parties. EEI brings all aspects of producing under one roof: sales, production, casting, creative and technical. EEI productions have been produced and presented in all 50 states as well as in Canada, Europe, Australia and Asia. Since 1999 EEI has produced; "Late Nite Catechism: The Series," "Maybe Baby, It's You, The Yiddish Are Coming," "The Yiddish Are Coming!," "Shout! The Mod Musical," "Tony N Tina's Wedding," "Defending the Caveman," "We're Still Hot! The Musical" and are former producers of "Jeanie Linders' Menopause The Musical." EEI is now proud to present "Girls Night: The Musical," "Late Nite Catechism," "Sister Strikes Again!: Late Nite Catechism 2," "'Til Death Do Us Part: Late Nite Catechism 3," "Sister's Christmas Catechism: The Mystery" of the "Magi's Gold, Sister's Easter Catechism: Will My Bunny Go To Heaven?," "The Santa Class and A Girls Night Musical: Girl Talk!"
*Ticket prices are subject to change without notice.