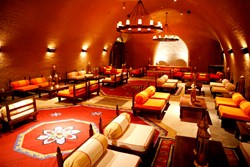 'This culinary adventure plays perfectly in to our Food of Place initiative celebrating unique culinary experiences,' said John Washko, Vice President of Operations, Auberge Resorts
Mill Valley, CA (PRWEB) February 12, 2014
Auberge Resorts today announced the partnership with Palais Namaskar, an Oetker Collection resort in Morocco, for three days of events in Napa Valley March 13-15, 2014, to celebrate the cultures and cuisines of both regions. Palais Namaskar's culinary team, led by Executive Chef Antoine Perray, will collaborate with culinary extraordinaires Executive Chef Robert Curry of Michelin-starred Auberge du Soleil, Brandon Sharp, Michelin-starred Executive Chef of Solbar at Solage Calistoga, and Executive Chef Aaron Meneghelli at Calistoga Ranch in the three-day program, which will feature multi-course meals paired with Moroccan wines, hammam-style spa offerings, cooking demonstrations and culminate in a Morocco-meets-California gala.
"We felt a natural connection with the Palais Namaskar, a hotel that shares many of the characteristics as Auberge Resorts – impeccable service and five-star luxury, and we wanted to go beyond just bringing in a guest chef," said John Washko, Vice President of Operations. "This culinary adventure plays perfectly in to our Food of Place initiative celebrating regional cuisines, and we know it will be a memorable way to kick off the season in Napa Valley."
"It is an honor for us to be invited to Auberge Resorts to share our common passion for food," said Laurent Branover, Directeur Général, Palais Namaskar. We truly look forward to introducing guests to Palais Namaskar's Moroccan cuisine through this one-of-a-kind culinary experience in Napa Valley."
Three Days of Food and Wine Events Events begin on Thursday, March 13, 2014, with a Moroccan mezze reception at Auberge du Soleil. Kris Margerum, Wine Director for Auberge du Soleil, will pair wines from both regions for an elegant, five-course dinner featuring amuse bouche, a comfit-spiced pumpkin with duck liver emulsion, and spiced lamb saddle cooked with orange reduction, organic carrot and cumin puree. Michelin-starred Executive Chef Robert Curry and Palais Namaskar Chef Antoine Perry will prepare the unique menu, bringing the unique ingredients from Morocco to Northern California.
Day Two: features an interactive cooking experience focusing on the Art of the Tagine with Chef Perray and Solage Calistoga Executive Chef Brandon Sharp, followed by a tasting presentation highlighting Moroccan wines. Guests will create their own tagine of marinated wild sea bass, chermoula and spring vegetables, to be finished by the culinary team and served for dinner in the Michelin-starred Solbar. Didier Pariente of Nomadic Distribution, an importer of Moroccan wines, will lead guests through a wine presentation and portfolio tasting of one of Morocco's oldest and most awarded wineries, Domaine Ouled Thaleb, featuring selections of whites, rosés, and reds available in the U.S. Guests will receive their tagine, valued at $50, to take home, compliments of Le Creuset, along with a wine gift bag compliments of Domaine Ouled Thaleb. Didier Pariente of Nomadic Distribution will present Moroccan wines and give an overview of the viticultural history of the region, and guests will receive a gift bag including educational materials about Moroccan food and wine.
Day Three: The final evening is the gala dinner mimicking an evening in Morocco in the Wine Cave at Calistoga Ranch, which will be transformed into a Moroccan tent complete with belly dancers, indigenous spices, argan oil and fresh vegetables from the area. All four chefs will prepare dishes indigenous to Morocco and California such as chachouka, zaalouk, cheese and truffle briouat, orange blossom cucumber, cinnamon comfit tomatoes, and tafernout bread.
Complementing the culinary experiences, guests will have the opportunity to participate in other Moroccan themed activities at all three properties. Calistoga Ranch will offer belly dancing lessons on Saturday, March 15th. The property is also offering a six-step Moroccan Hammam Treatment in the Auberge Spa at Calistoga Ranch, beginning with a steam bath followed by the application of savon noir, a Moroccan natural black soap. After a head-to-toe exfoliation, a Morroccan Rhassoul clay mask will be applied along with natural rose water.
A massage using Baladi soap with a dose of authentic Argan oil followed by a Moroccan tea experience on the relaxation deck concludes the experience. All guests staying at Calistoga Ranch will be given a departure gift of Moroccan salt scrub and a certificate to be used toward a future stay.
Each dining event is $150 per person, including tax and gratuities. Specially priced two- and three-day room packages will be available at Calistoga Ranch, Auberge Du Soleil and Solage Calistoga. All properties will feature a complimentary soak and steam experiences in their spas for guests attending one or more events. Complimentary transportation will be provided among all three properties. For more information or to make a reservation, call 707-341-2828 or visit http://www.aubergeresorts.com/.
About Auberge Resorts
Auberge Resorts is a collection of exceptional hotels, resorts and private clubs, each with a unique personality that assures a memorable guest experience. While Auberge Resorts nurtures the individuality of each establishment, all are characterized by a set of communal elements: intimate, understated elegance; captivating locations that inspire exceptional cuisine and spa experiences; and gracious yet unobtrusive service. Among the Auberge collection of distinctive properties are: Auberge du Soleil, Napa Valley, Calif.; Calistoga Ranch, Napa Valley, Calif.; Solage Calistoga, Napa Valley, Calif; Esperanza, Cabo San Lucas, Mexico; Hotel Jerome, Aspen, Colo.; the Malliouhana Hotel & Spa, Anguilla; The Auberge Residences at Element 52, Telluride, Colo.; and Pronghorn Resort, Bend, Ore., with several others currently in development. For more information about Auberge Resorts, please visit http://www.aubergeresorts.com/. Follow Auberge Resorts on Facebook at facebook.com/AubergeResorts and on Twitter at @AubergeResorts.