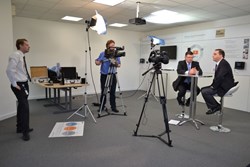 15% of viewers drop off after 7 seconds and a further 25% drop off after 15 seconds.
London (PRWEB UK) 12 February 2014
CommunicateTV is putting a call out to video content producers to shorten their video productions and sharpen their answers… or become the new junk mail
Having analysed over 300 videos from corporate websites of large UK based businesses, CommunicateTV found that the average length for video content is 3:32 with the shortest videos coming in at 12 seconds and the longest running over 43 minutes. These findings suggest that video content length in the UK is shorter than the US average of 4.2 minutes, reported by ComScore (January 2014).
According to Steve Barton, International Marketing Expert from Advokator, "3:32 is still too long. I have seen viewing results that suggest that as many as 15% of viewers drop off after 7 seconds and a further 25% drop off after 15 seconds. It's all about relevance and brevity. You need to answer the viewer's question in under 15 seconds or they will bounce to another source of content that answers their question more directly. You can always provide routes to longer, more detailed content after answering their initial request."
The need to keep things short is backed up by research in the US by the National Center for Biotechnology Information showing that the average attention span in 2013 is 8 seconds, down from 12 seconds in 2000. Moreover, Vidyard found that targeting niche audiences with more targeted scripts and shorter video resulted over 75% of viewers watching beyond 15 seconds.
Dave Harries, MD of CommunicateTV, said: "The length of many videos on the web is still too long and often the messaging is not focused enough. If this trend continues, we believe that viewing figures will decrease dramatically as we get turned off by long, irrelevant yet omnipresent video message messages. A lot like our view of junk mail today."
Dave added,"Business leaders need to recognise that they are competing for the attention of their audiences. It is critical that they learn to get their messages over quickly and succinctly. When it comes to using video content, particularly for marketing, less really does mean more."
CommunicateTV works with its clients to creating short, focused video content that is aimed to engage the relevant audiences. They use the broadcast interview approach as it makes the viewer feel as if the key questions are being asked on their behalf. They work with clients to turn their key messages into a concise narrative and train and support them on appearing in front of a camera.